April 10, 2014
ILC: Interferon-Free Combo Has >95% Virologic Response
Findings among HCV genotype 1 patients previously treated with peginterferon-ribavirin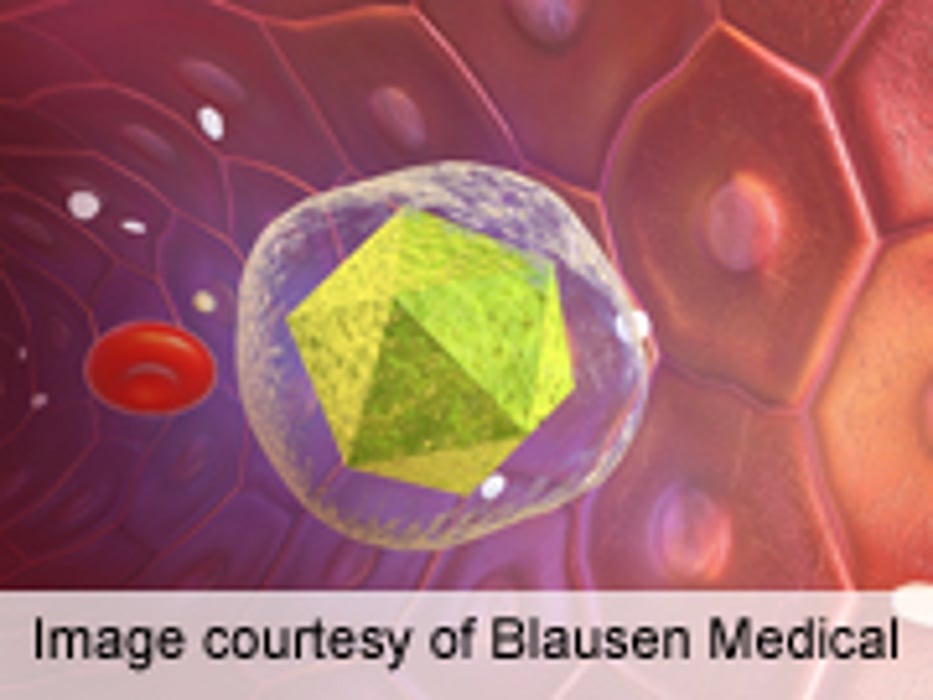 THURSDAY, April 10, 2014 (HealthDay News) -- An oral, interferon-free drug combination results in a sustained virologic response 12 weeks post-treatment of more than 95 percent in patients with hepatitis C virus (HCV) genotype 1, according to a study published online April 10 in the New England Journal of Medicine. This research was published to coincide with presentation at the annual International Liver Congress, held from April 9 to 13 in London.
Stefan Zeuzem, M.D., from the Johann Wolfgang Goethe University in Frankfurt, Germany, and colleagues randomly assigned (3:1) patients with HCV genotype 1 infection (with no cirrhosis who had previously relapsed, had a partial or null response with peginterferon-ribavirin) to receive coformulated ABT-450/ritonavir-ombitasvir (once-daily 150 mg ABT-450, 100 mg ritonavir, 25 mg of ombitasvir) and dasabuvir (250 mg twice daily) with ribavirin (1,000 or 1,200 mg daily) or placebos for a 12-week period. Sustained virologic response 12 weeks after study's end was the primary end point.
The researchers found that 286 of 297 active-regimen patients (96.3 percent) had a sustained virologic response. Compared to the historical control rate, this rate was noninferior and superior. Specifically, virologic response rates were 95.3 percent among those with a prior relapse (82 patients), 100 percent among those with prior partial response (65 patients), and 95.2 percent among those with prior null response (139 patients). Drug-related adverse events requiring discontinuation occurred in three patients.
"Rates of response to a 12-week interferon-free combination regimen were more than 95 percent among previously treated patients with HCV genotype 1 infection, including patients with a prior null response," the authors write.
The trial was funded by AbbVie, the manufacturer of ABT-450/ritonavir, ombitasvir, and dasabuvir.
Abstract
Full Text
Perspective 1
Perspective 2
More Information
Physician's Briefing