December 4, 2013
Varicella Vaccination Program Has Not Increased Herpes Zoster
Findings show no significant increase in herpes zoster in older U.S. adults after universal vaccination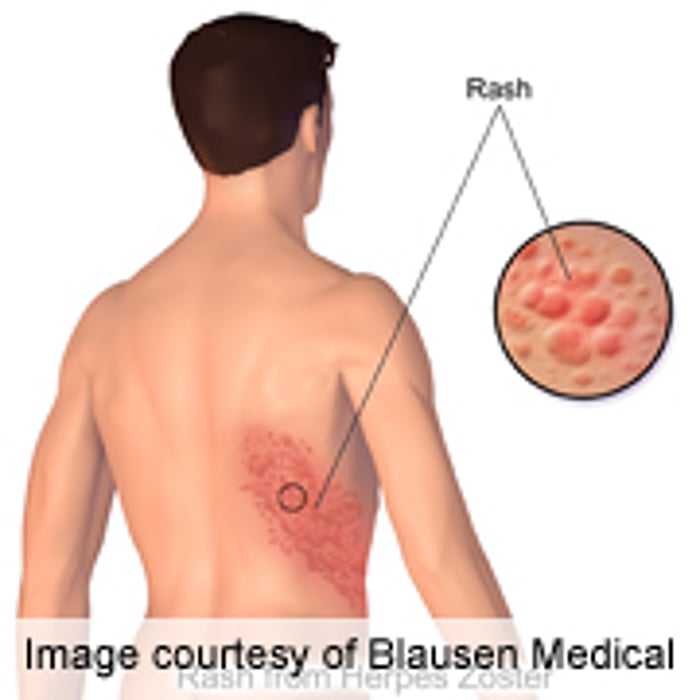 WEDNESDAY, Dec. 4, 2013 (HealthDay News) -- Introduction of a universal varicella vaccine program for U.S. children in 1996 has not correlated with a significant increase in herpes zoster incidence in older U.S. adults, according to a study published in the Dec. 3 issue of the Annals of Internal Medicine.
Craig M. Hales, M.D., M.P.H., from the U.S. Centers for Disease Control and Prevention in Atlanta, and colleagues examined whether the varicella vaccination program influenced trends in herpes zoster incidence among U.S. adults older than 65 years. Data were collected in a retrospective study of Medicare claims for 2,848,765 beneficiaries older than 65 years, from 1992 through 2010.
The researchers identified 281,317 incident cases of herpes zoster. The age- and sex-standardized herpes zoster incidence increased from 10.0 per 1,000 person-years in 1992 to 13.9 per 1,000 person-years in 2010, with no evidence of a statistically significant change in the rate of herpes zoster incidence after introduction of the vaccine. The incidence of herpes zoster was increased for women versus men (relative risk, 1.21) and was lower among black persons and Hispanics versus whites (relative risk, 0.51 and 0.76, respectively) before introduction of the vaccination program. After adjustment for sex, age, and calendar year from 1997 to 2010, the incidence of herpes zoster did not change by state varicella vaccination coverage (relative risk, 0.9998; 95 percent confidence interval, 0.9993 to 1.0003).
"This information is reassuring for countries considering universal varicella vaccination," the authors write.
Physician's Briefing