October 23, 2020
La COVID-19 es más común entre las hispanas embarazadas que entre otras futuras madres según un estudio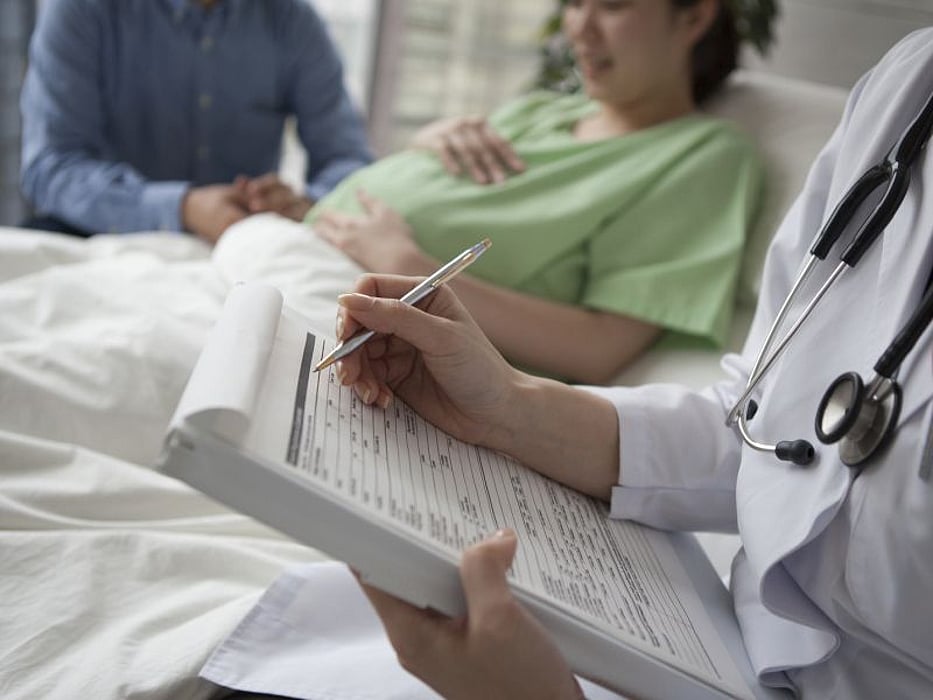 JUEVES, 22 de octubre de 2020 (HealthDay News) -- Las futuras madres hispanas en la parte sur de Estados Unidos tienen casi el doble de probabilidades de sufrir de COVID-19 que las mujeres no hispanas, encuentra un estudio reciente.
Los investigadores también encontraron que las que tenían un seguro de salud gubernamental eran más propensas a tener un resultado positivo del coronavirus que las mujeres con un seguro privado.
En el estudio, se realizaron pruebas rutinarias de la COVID-19 a mujeres embarazadas cuando fueron a dar a luz a un hospital de Houston, señaló la investigadora, la Dra. Beth Pineles.
"Es importante realizar pruebas a todo el mundo, porque si solo se realizan las pruebas a las personas sintomáticas, habrá mucha más personas que tengan resultados positivos", explicó Pineles, miembro de medicina materna y fetal de la Facultad de Medicina McGovern del Centro de Ciencias de la Salud de la Universidad de Texas, en Houston (UT Health).
"Las pruebas universales permiten obtener un estimado no sesgado de quién se está infectando, y nuestro estudio encontró que las mujeres hispanas eran mucho más propensas a tener el virus", aclaró Pineles en un comunicado de prensa de UT Health.
Los investigadores recolectaron datos de más de 900 pacientes hispanas, negras, asiáticas y blancas. Entre las mujeres hispanas, casi un 11 por ciento tuvieron resultados positivos de la COVID-19, frente a un 5.5 por ciento de las pacientes que no eran hispanas, mostraron los hallazgos.
"Aunque este estudio no exploró por qué las pacientes hispanas son más propensas a contraer la COVID-19, la investigación parece apuntar a más motivos sociales y culturales en lugar de cualquier tipo de disposición genética", observó Pineles.
"Es demasiado pronto en la pandemia para saberlo con certeza, pero algunos estudios han observado a factores como el hacinamiento de los vecindarios, el número de personas que habitan en una vivienda, y tener empleos esenciales en lugar de poder quedarse en casa y practicar el distanciamiento social", añadió Pineles.
En cuanto al seguro, un 9.5 por ciento de las pacientes con un seguro público (como Medicaid) tenían la COVID-19, frente a un 2.5 por ciento de las pacientes con un seguro privado, encontraron los investigadores.
La Dra. Jacqueline Parchem es profesora asistente del departamento de obstetricia, ginecología y ciencias de la reproducción de la facultad de medicina. "Un punto fuerte de este estudio es que la población obstétrica de Houston tiene una diversidad increíble, así que pudimos examinar los resultados de grupos que con frecuencia cuentan con poca representación", aseguró.
"El hallazgo de que el seguro público, además de la raza/etnia, se asociaba con unas tasas más altas de infección no fue inesperado. Sabemos que las barreras sistémicas a la atención de salud son un problema importante", enfatizó Parchem. "Pero tener los datos es importante, porque las evidencias llaman la atención al problema e, idealmente, motivan a los cambios en las políticas".
Los hallazgos contenían algunas buenas noticias: la mayoría de las pacientes (un 86 por ciento) eran asintomáticas, y ninguna madre falleció. Solo un bebé tuvo un resultado positivo del virus, y nunca mostró ningún síntoma.
Pines indicó que "este estudio es tranquilizador, porque solo un bebé tuvo un resultado positivo, y fue asintomático. Estudios como el nuestro han ayudado a cambiar las prácticas, al mostrar que la tasa de infección neonatal es muy baja. Hace unos meses, se separaba a los bebés de las madres, independientemente de que la madre tuviera síntomas o no. Ahora, se permite a las mujeres sin síntomas quedarse con los bebés, y esto es importante para la vinculación. Tener datos nos ayuda a cuantificar mejor los riesgos, y a proveer una mejor atención".
El informe se publicó en una edición reciente en línea de la revista European Journal of Obstetrics and Gynecology and Reproductive Biology.
Más información
Para más información sobre la COVID-19, visite los Centros para el Control y la Prevención de Enfermedades de EE. UU.
Artículo por HealthDay, traducido por HolaDoctor.com
© Derechos de autor 2020, HealthDay

FUENTE: University of Texas Health Science Center at Houston, news release, Oct. 14, 2020
Consumer News in Spanish