April 22, 2014
Type of Attending Doc Affects Feeding Tube Rates in Elderly
Specialist on care team raises rates of feeding tube insertion in elderly, demented patients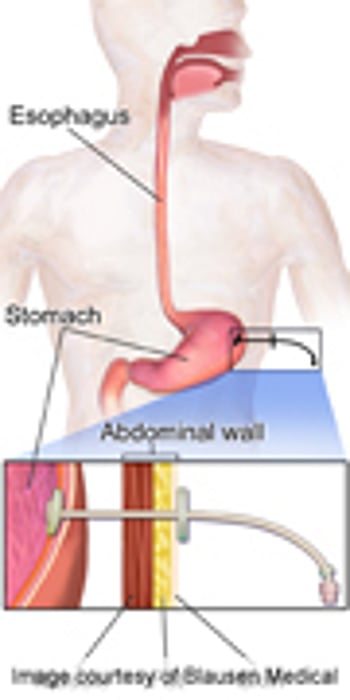 TUESDAY, April 22, 2014 (HealthDay News) -- The rate of feeding tube insertions in hospitalized patients with severe dementia varies by type of attending physician, according to a study published in the April issue of Health Affairs.
Joan Teno, M.D., from the Brown University School of Public Health in Providence, R.I., and colleagues analyzed factors contributing to the variation in feeding tube insertion rates among nursing home residents with advanced dementia who were hospitalized in 2001 to 2010 with an infection or dehydration.
The researchers found that rates of insertion of a percutaneous endoscopic gastrostomy feeding tube varied by type of attending physician. When all of a patient's attending physicians were hospitalists (1.6 percent) or nonhospitalist generalists (2.2 percent), insertion rates were markedly lower, compared to all subspecialists (11.0 percent) or a mixture of physicians by type (15.6 percent). Over the study period, the portion of patients seen by a mixture of attending physicians increased from 28.9 to 38.3 percent.
"Efforts to improve decision making in the care of patients with advanced dementia should include interventions to improve communication among physicians and the education of subspecialists about the merits of using feeding tubes with this population," Teno and colleagues conclude.
Abstract
Full Text (subscription or payment may be required)
Physician's Briefing