November 12, 2012
Nucleoside Analogue Tx Cuts Recurrence in HBV-Related HCC
Treatment correlates with lower risk of recurrence, death after curative liver resection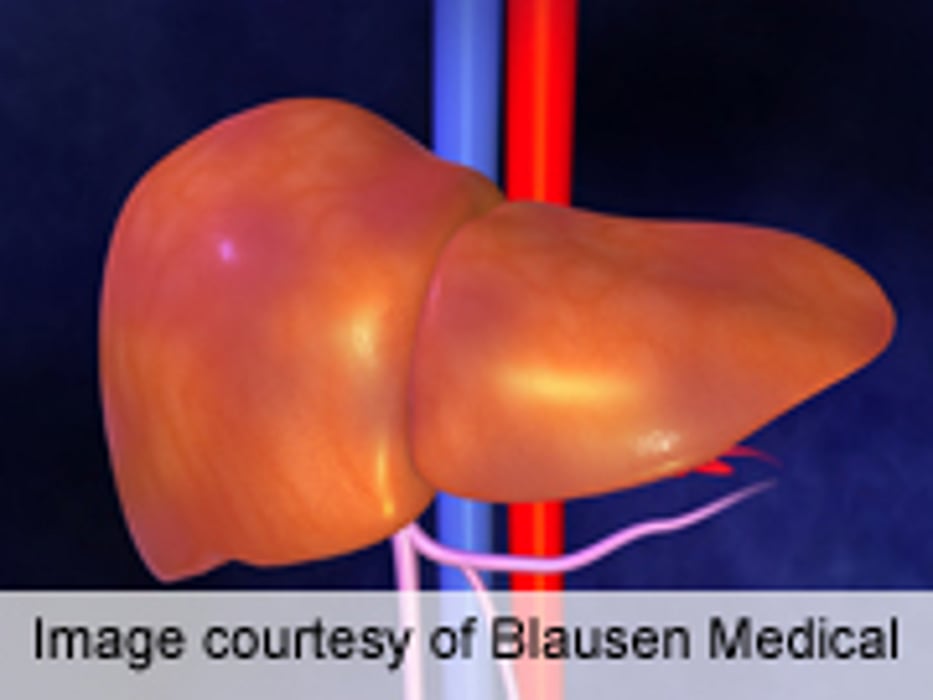 MONDAY, Nov. 12 (HealthDay News) -- For patients with hepatitis B virus (HBV)-related hepatocellular carcinoma (HCC) who undergo curative liver resection, treatment with nucleoside analogues correlates with a reduced risk of HCC recurrence or death, according to a study published online Nov. 12 in the Journal of the American Medical Association to coincide with presentation at the annual meeting of the American Association for the Study of Liver Diseases, held from Nov. 9 to 13 in Boston.
Chun-Ying Wu, M.D., Ph.D., M.P.H., from the National Yang-Ming University in Taipei, Taiwan, and colleagues examined the association between nucleoside analogue use and risk of tumor recurrence in a nationwide cohort study involving 4,569 patients with HBV-related HCC who received curative liver resection for HCC. The risk of first tumor recurrence was compared for 518 patients treated with nucleoside analogues and 4,051 untreated patients.
The researchers found the prevalence of liver cirrhosis to be significantly higher in the treated versus untreated cohort (48.6 versus 38.7 percent), but the risks of HCC recurrence (20.5 versus 43.6 percent) and overall death (10.6 versus 28.3 percent) were significantly lower. The treated cohort had a significantly lower six-year HCC recurrence rate, after adjustment for competing mortality (45.6 versus 54.6 percent). The six-year overall mortalities were 29.0 percent for the treated cohort and 42.4 percent for the untreated cohort. A significantly reduced risk of HCC recurrence correlated independently with nucleoside analogue use (hazard ratio [HR], 0.67), statin use (HR, 0.68), and nonsteroidal anti-inflammatory drug or aspirin use (HR, 0.80). The association was verified in all subgroups, including patients without cirrhosis (HR, 0.56) and patients with diabetes (HR, 0.52).
"In conclusion, nucleoside analogue use was associated with a lower risk of HCC recurrence among patients with HBV-related HCC after liver resection," the authors write.
Physician's Briefing