October 13, 2015
Intervention Cuts Contamination in Protective Gear Removal
Contamination of skin or clothing common in personnel removing personal protective equipment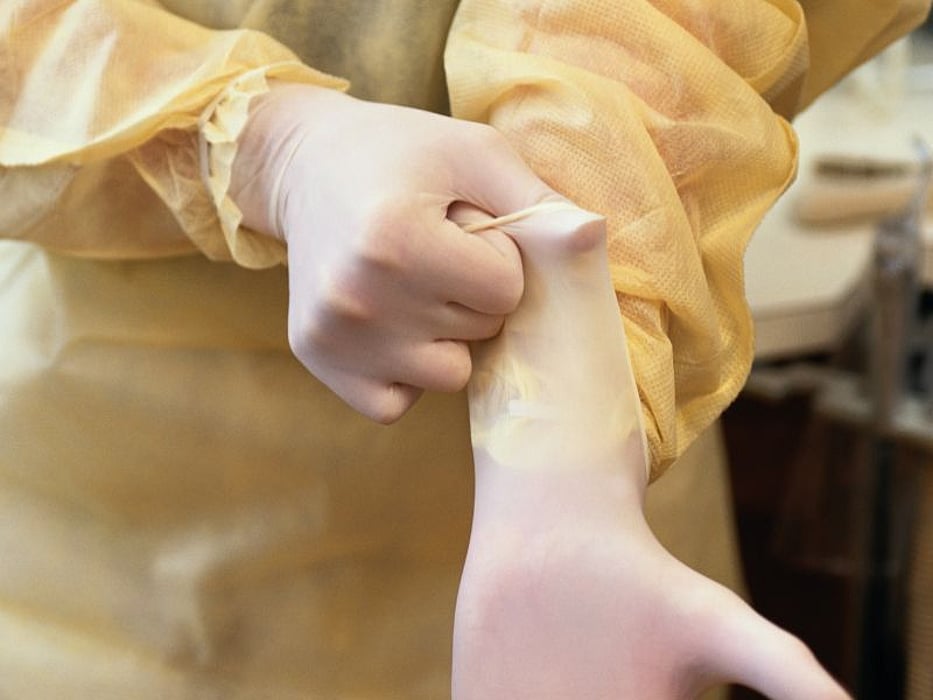 TUESDAY, Oct. 13, 2015 (HealthDay News) -- An educational intervention can reduce contamination of the skin and clothing of health care personnel during removal of contaminated personal protective equipment (PPE), according to a study published online Oct. 12 in JAMA Internal Medicine.
Myreen E. Tomas, M.D., from the Cleveland Veterans Affairs Medical Center, and colleagues determined the frequency and sites of contamination during PPE removal. Participants included a convenience sample of health care personnel from four Northeast Ohio hospitals. They also examined the effect of an intervention that included education and practice in removal of contaminated PPE, with feedback based on contamination with fluorescent lotion. The intervention was performed in a cohort of health care personnel from seven study units in one medical center.
The researchers found that contamination of skin or clothing with fluorescent lotion occurred in 46 percent of 435 glove and gown removal simulations, with a similar frequency of contamination among the hospitals. Contamination occurred more often during glove versus gown removal (52.9 versus 37.8 percent) and when lapses in technique were observed (70.3 versus 30 percent). There was a reduction in skin and clothing contamination during glove and gown removal with the intervention (60 percent before intervention versus 18.9 percent after); this was sustained after one and three months (12 percent at both time points).
"Educational interventions that include practice with immediate visual feedback on skin and clothing contamination can significantly reduce the risk of contamination during removal of PPE," the authors write.
The study was funded by Steris, an infection prevention and decontamination company, and one author disclosed ties to pharmaceutical and consumer products companies.
Physician's Briefing