February 17, 2014
Kidney Donors Have Slightly Higher Risk of Kidney Disease
Findings compared to healthy nondonors, but risk still lower than general population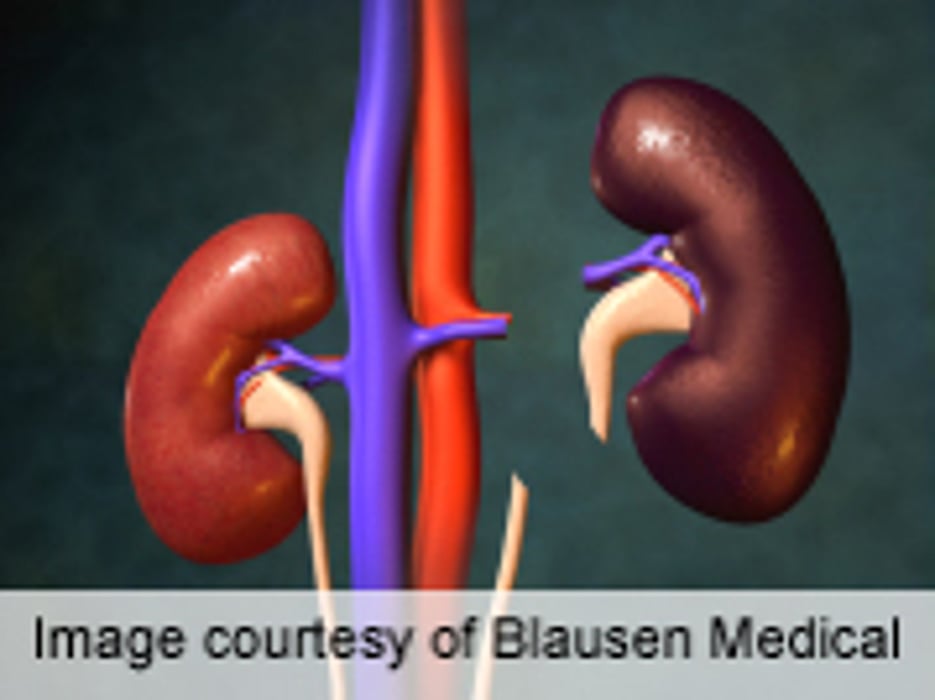 MONDAY, Feb. 17, 2014 (HealthDay News) -- Live kidney donors have a slightly increased risk of end-stage renal disease (ESRD) in the years following donation compared with healthy nondonors, according to a study published in the Feb. 12 issue of the Journal of the American Medical Association.
Abimereki D. Muzaale, M.D., M.P.H., from the Johns Hopkins University School of Medicine in Baltimore, and colleagues compared the development of ESRD in a cohort of 96,217 kidney donors in the United States (from April 1994 to November 2011) and a cohort of 20,024 participants of the Third National Health and Nutrition Examination Survey. Kidney donors were followed for a median of 7.6 years, while the matched healthy nondonors were followed for a median of 15.0 years.
The researchers found that 99 living donors developed ESRD in a mean of 8.6 years after donation and 36 nondonors developed ESRD in 10.7 years. At 15 years after donation, the estimated risk of ESRD was 30.8 per 10,000 for donors versus 3.9 per 10,000 for matched healthy nondonor counterparts (P < 0.001). The estimated lifetime risk of ESRD was 90 per 10,000 for donors; 14 per 10,000 for non donors; and 326 per 10,000 in the general population.
"These findings may help inform discussions with persons considering live kidney donation," the authors write.
Abstract
Full Text (subscription or payment may be required)
Editorial (subscription or payment may be required)
Physician's Briefing