August 30, 2012
Novel Pathogenic Virus Identified in Missouri
Virus found in two patients who were bitten by ticks; seems to be a member of phlebovirus genus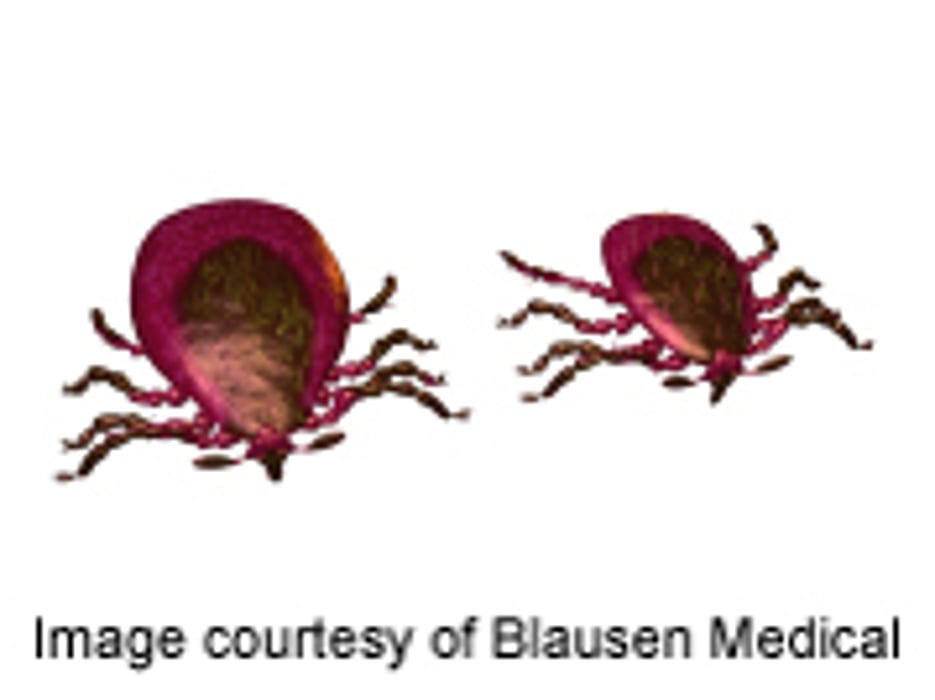 THURSDAY, Aug. 30 (HealthDay News) -- A novel pathogenic virus dubbed the Heartland virus, which is a member of the phlebovirus genus, has been identified in two patients from Missouri, according to a report published in the Aug. 30 issue of the New England Journal of Medicine.
Laura K. McMullan, Ph.D., from the U.S. Centers for Disease Control and Prevention in Atlanta, and colleagues conducted virus culture and genome sequencing on clinical samples taken from two men from northwestern Missouri, who independently presented to a medical facility with fever, fatigue, diarrhea, thrombocytopenia, and leukopenia. Both men had been bitten by ticks five to seven days prior to the onset of illness.
The researchers found that cultures showed cytopathic effects similar to early cultures of Ehrlichia Chaffeensis, but this agent was not found on serologic analysis, polymerase chain reaction assay, or cell culture. Electron microscopy revealed enveloped particles, typical of a virus from the Bunyaviridae family. Next-generation sequencing of total RNA from culture media revealed sequences that were similar to those of phleboviruses in the Bunyaviridae family. Phylogenetic analysis identified the virus as a member of the phlebovirus genus.
"Although Koch's postulates have not been completely fulfilled, our findings are consistent with the identification of a new pathogenic virus in the United States," the authors write. "Given the largely nonspecific symptoms observed, this virus could be a more common cause of human illness than is currently recognized. Epidemiologic and ecologic studies are needed to identify disease burden, risk factors for infection, and natural hosts of this new virus."
Physician's Briefing