December 28, 2016
La razón por la que el acné puede atacar a las mujeres después de la adolescencia
Un estudio sugiere que la dieta, el estrés y los antecedentes familiares podrían influir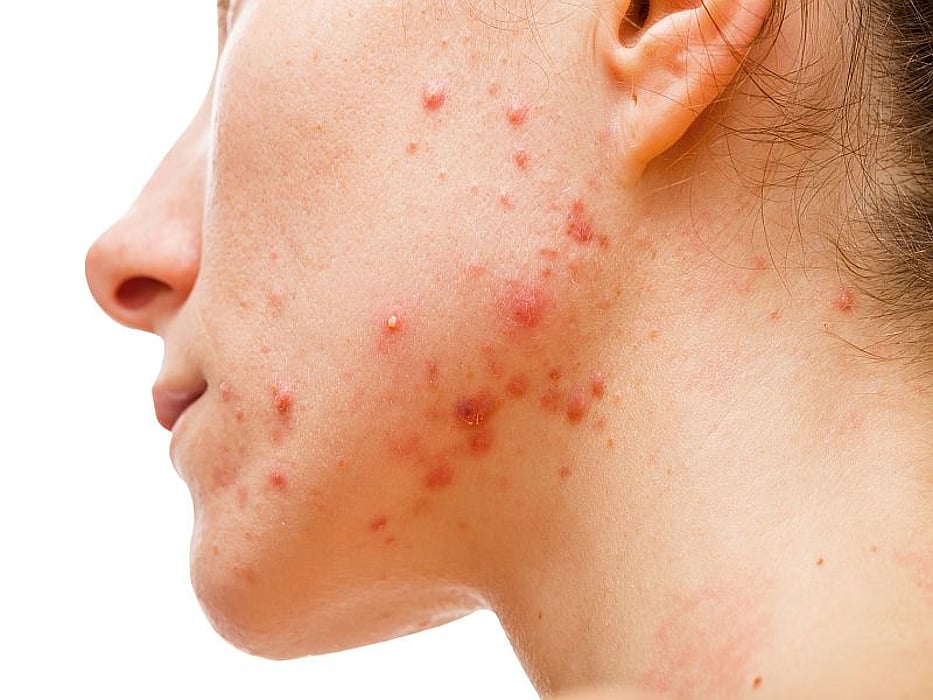 MARTES, 27 de diciembre de 2016 (HealthDay News) -- ¿Por qué algunas mujeres siguen teniendo acné en la adultez? Un nuevo estudio ofrece algunas pistas.
Los investigadores italianos que observaron a 500 mujeres descubrieron algunos factores relacionados con el riesgo de acné después de los 25 años de edad, incluyendo una ingesta baja de frutas y verduras, unos niveles altos de estrés y los antecedentes familiares de acné en la adultez.
Los hallazgos no demuestran que esas cosas provoquen acné en algunas mujeres, pero es plausible que influyan, según los dermatólogos.
"Vemos que la gente que sigue una dieta de comida basura tiende a tener más acné", dijo la Dra. Debra Jaliman, profesora asistente de dermatología en la Facultad de Medicina Icahn en Mount Sinai, en la ciudad de Nueva York.
Concretamente, dijo Jaliman, la investigación ha implicado a los alimentos con un "índice glucémico" alto, que provocan un aumento del azúcar en la sangre. Entre los alimentos con un índice glucémico alto se encuentran el pan blanco y el arroz blanco, las papas fritas y las galletas saladas, y los alimentos horneados azucarados.
De forma parecida, dijo Jaliman, el estrés crónico se cobra un precio en la salud general, y eso podría ser aparente en la piel.
Más del 80 por ciento de los adolescentes tienen brotes de acné. La buena noticia es que en la mayoría de los casos desaparecen después de los 20 años de edad, según un equipo dirigido por el Dr. Luigi Naldi, del Centro de Estudios del Grupo Italiano de Investigación Epidemiológica en Dermatología en Bérgamo, Italia.
Aun así, entre el 20 y el 40 por ciento de los adultos sigue teniendo acné, añadieron los investigadores.
"Las mujeres tienden a tener acné en la edad adulta con más frecuencia que los hombres", dijo Jaliman. "A menudo se debe a los cambios en los niveles de hormonas o a los desequilibrios hormonales".
Las mujeres podrían tener acné antes del periodo menstrual, por ejemplo, o cuando empiezan a o dejan de tomar las píldoras anticonceptivas, señaló Jaliman.
Pero no está completamente claro por qué algunas mujeres siguen teniendo acné, y otras no.
Para observar esta cuestión, el equipo de Naldi encuestó a mujeres atendidas en las clínicas de dermatología de 12 ciudades italianas. En total, a 248 les diagnosticaron acné y a 270 les diagnosticaron otras afecciones y sirvieron como grupo de control.
Los investigadores encontraron que ciertos factores del estilo de vida estaban vinculados con el riesgo de diagnóstico de acné.
Las mujeres que comieron fruta y verdura, o pescado fresco, menos de 4 días a la semana tenían más del doble de probabilidades de tener acné, en comparación con las mujeres que comieron esos alimentos con mayor frecuencia.
Los hallazgos aparecieron en la edición de diciembre de la revista Journal of the American Academy of Dermatology.
Pero no está claro si comer fruta y verdura protege específicamente contra el acné, según otra dermatóloga que revisó el estudio.
Las mujeres que seguían dietas con pocos de estos alimentos saludables quizá coman muchos alimentos con un índice glucémico alto, lo que podría ser el culpable, explicó la Dra. Bethanee Schlosser, profesora asociada de dermatología en la Facultad de Medicina Feinberg de la Universidad de Northwestern, en Chicago.
Schlosser también comentó que el estudio no encontró ninguna conexión entre la ingesta de lácteos y el acné, lo que entra en conflicto con el trabajo anterior de los mismos investigadores.
Según Schlosser, es posible que los factores de la dieta asociados con el acné sean distintos para cada grupo de edad.
Además de la dieta, los niveles de estrés de las mujeres se asociaron con el riesgo de acné. Las que reportaron unos niveles "altos" o "muy altos" tenían un riesgo 3 veces más alto de tener acné, en comparación con las mujeres con menos estrés.
El riesgo de acné también era más alto entre las mujeres cuyos padres o hermanos tenían acné en la adultez. Lo mismo era cierto para las mujeres que nunca habían quedado embarazadas o que tenían hirsutismo, que es un patrón masculino de crecimiento de pelo en la cara o en el cuerpo.
Según Jaliman, estos últimos hallazgos podrían reflejar los efectos del síndrome de ovario poliquístico (SOP), un trastorno hormonal que provoca problemas de fertilidad, hirsutismo y acné.
De hecho, indicó Schlosser, el estudio incluyó a mujeres con un diagnóstico de SOP u otros trastornos que aumentan los niveles de testosterona. Y eso limita el potencial de la extensión de los hallazgos a la "población general de mujeres" sin trastornos hormonales, señaló.
Pero aunque este estudio no demuestra que el pescado, la fruta o la reducción del estrés acabarán con el acné de una mujer, siempre es inteligente tener cuidado con la dieta y con el estilo de vida, indicó Jaliman.
"Recomiendo que haga algo que le relaje diariamente", dijo, poniendo a la meditación como un ejemplo.
Jaliman también aconsejó que se coma mucha fruta, verdura y pescado, que claramente son buenos para la salud general.
Más información
La Academia Americana de Dermatología (American Academy of Dermatology) tiene más información sobre el acné en la adultez.
Artículo por HealthDay, traducido por HolaDoctor.com
© Derechos de autor 2016, HealthDay

FUENTES: Debra Jaliman, M.D., assistant professor, dermatology, Icahn School of Medicine at Mount Sinai, New York City; Bethanee Schlosser, M.D., Ph.D., associate professor, dermatology, Northwestern University Feinberg School of Medicine, Chicago; December 2016, Journal of the American Academy of Dermatology
Consumer News in Spanish