November 24, 2016
Tenga en cuenta a los niños cuando se hable de política en Acción de Gracias
Las discusiones políticas acaloradas pueden asustar a los niños, advierten unos psiquiatras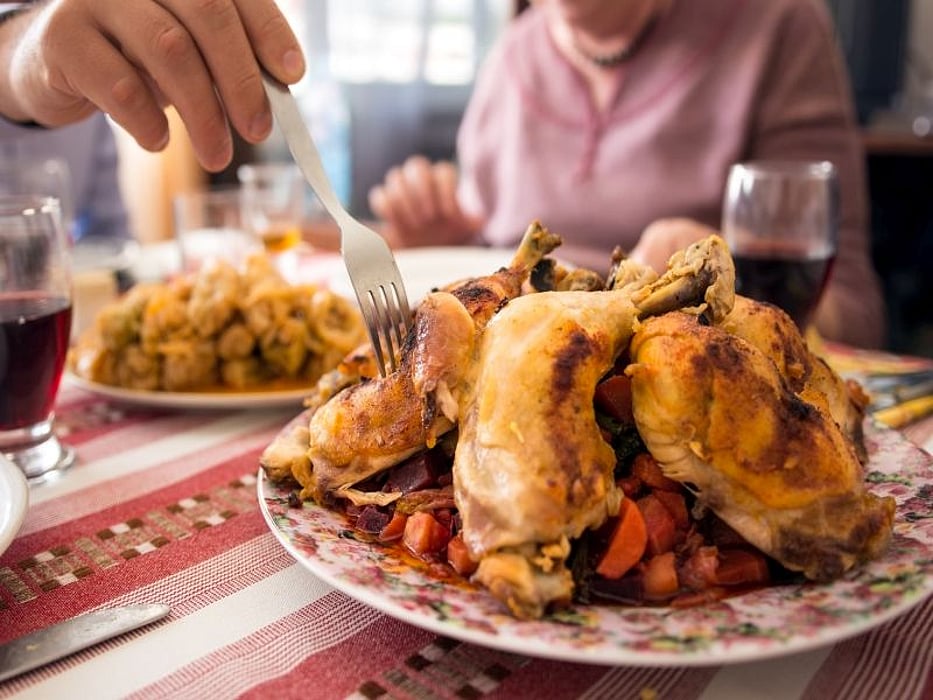 MIÉRCOLES, 23 de noviembre de 2016 (HealthDay News) -- Este Acción de Gracias, especialmente, las diferencias políticas podrían avivar debates en la mesa que rápidamente suban de tono.
Dos psiquiatras advierten que estos intercambios acalorados pueden dañar a los niños que estén escuchando.
"Como psiquiatra infantil, lo que me causa más alarma es la animosidad a la que se expone a los niños; el enojo palpable e incluso el odio es percibido por los niños y se asustan", dijo el Dr. Matthew Lorber, director de psiquiatría infantil y adolescente del Hospital Lenox Hill, en la ciudad de Nueva York.
Idealmente, dijo, "el mejor escenario es pedir que se haga la promesa de no hablar de política cuando se hacen las invitaciones de Acción de Gracias".
Pero dado que eso a veces es difícil de mantener en las reuniones familiares, Lorber ofreció algunos consejos para que los adultos "modelen una buena conducta para los niños" con respecto a las discusiones sobre política.
En primer lugar, mantengan la calma. "No griten ni levanten la voz", dijo Lorber. Dejen a los demás acabar lo que tengan que decir y no los interrumpan. Los adultos también deberían intentar atenerse a los hechos y no hacer ataques personales. (Por ejemplo: "¡Eres un idiota por pensar eso!").
Sobre todo, evite el alarmismo, porque los niños con frecuencia tienen dificultades para diferenciar las teorías de las certezas. Decir que cualquier cambio político podría llevar a la guerra o a disturbios sociales asusta a los niños de forma innecesaria, comentó Lorber.
Y lo más importante de todo, cuando los adultos intenten llegar a algún tipo de entendimiento o compromiso, esa manera de proceder también establece un buen ejemplo para los niños que escuchan, dijo.
El Dr. Victor Fornari, director del departamento de psiquiatría infantil y adolescente en el Hospital Zucker Hillside en Glen Oaks, Nueva York, dijo que "una recomendación general es que no se discuta ni de religión ni de política en las reuniones familiares".
Pero si se produce una discusión acalorada, depende de los adultos responsables cambiar de tema y pasar a temas menos polémicos, dijo Fornari.
"Todos debemos calmarnos y actuar como adultos, y ayudar a orientar a nuestros hijos del modo más productivo y efectivo que podamos", dijo.
Lorber dijo que una charla rápida con los niños más tarde a menudo también es útil.
"Después de que todos los invitados ya se hayan marchado, en la noche, asegúrese de hacer ver a sus hijos que dos personas pueden estar en desacuerdo y tener distintas opiniones y aun así llevarse bien y aprender el uno del otro", dijo.
Más información
Para más información sobre el estrés y los niños, visite la Asociación Americana de Psicología (American Psychological Association).
Artículo por HealthDay, traducido por HolaDoctor.com
© Derechos de autor 2016, HealthDay

FUENTES: Matthew Lorber, M.D., acting director, child and adolescent psychiatry, Lenox Hill Hospital, New York City; Victor Fornari, M.D., director, child and adolescent psychiatry, Zucker Hillside Hospital, Glen Oaks, N.Y., and Cohen Children's Medical Center, New Hyde Park, N.Y.
Consumer News in Spanish