August 26, 2019
Al volver a la escuela las mochilas no deberían ser una carga para la salud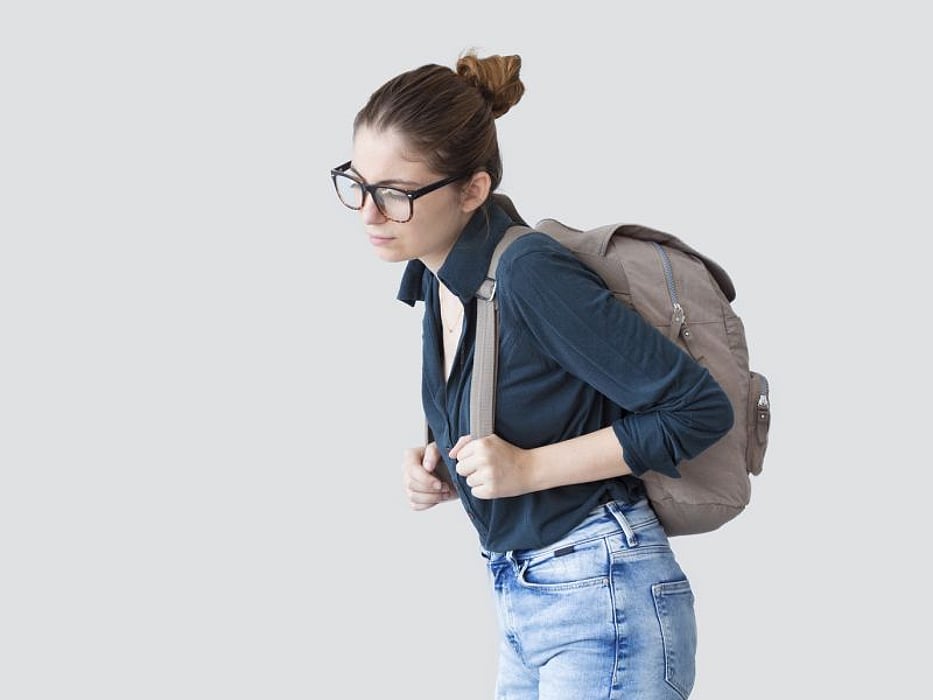 SÁBADO, 24 de agosto de 2019 (HealthDay News) -- Los libros, las tabletas, el almuerzo... todas esas cosas pueden hacer que la mochila escolar de su hijo pese mucho.
Los expertos de la Academia Americana de Cirujanos Ortopédicos (American Academy of Orthopaedic Surgeons, AAOS) ofrecen a los padres consejos sobre la seguridad de las mochilas al inicio del nuevo año escolar.
El motivo es que unas mochilas pesadas y que se usen mal pueden provocar dolor relacionado con la espalda, el cuello y los hombros en los niños, advierte el grupo. De hecho, en 2018, casi 51,000 personas fueron atendidas por lesiones relacionadas con las mochilas en los departamentos de emergencias, los consultorios de los médicos y las clínicas, según la Comisión de Seguridad de los Productos del Consumidor de EE. UU.
"El dolor de espalda debido a usar de forma inadecuada y cargar en exceso una mochila es un síntoma común", señaló en un comunicado de prensa de la AAOS el Dr. Afshin Razi, cirujano ortopédico de la columna y vocero de la agencia. "Para limitar las lesiones o el dolor de espalda, anime a su hijo a limitar la carga y a usar ambas correas acolchadas para tener una postura y una distribución del peso adecuadas".
Idealmente, los niños sanos con un peso corporal normal no deben cargar más de un 10 a un 20 por ciento de su peso corporal en una mochila.
Haga que los niños siempre usen ambas correas para los hombros cuando lleven una mochila, de forma que el peso se distribuya de forma más equitativa en la espalda. También, apriete las correas de la mochila para que la carga quede más cerca a la espalda. La parte inferior de la mochila debe ir a nivel de la cintura, según la AAOS.
Los niños solo deben llevar los artículos que necesiten para la escuela ese día, y los artículos más pesados se deben empacar en la parte inferior y hacia el centro de la mochila.
Si ve que su hijo tiene dificultades para ponerse o quitarse una mochila debido al peso, haga que saque algunos libros y los lleve en los brazos.
Quizá también sea necesario que hable con la escuela para que aligeren la carga de libros que los estudiantes deben llevar en la mochila. Implicar a otros padres en esa iniciativa podría ayudar a convencer a la escuela para que haga cambios, planteó la AAOS.
Los casilleros de la escuela son un buen recurso, por supuesto; anime a sus hijos a pasar por el casillero siempre que puedan, para dejar o cambiar los libros más pesados.
Al levantar las mochilas, deben doblar las rodillas.
Pueden aparecer problemas de espalda o cuello, y los padres deben animar a los niños a avisarles sobre cualquier entumecimiento, hormigueo o incomodidad en los brazos o las piernas, que podrían indicar una mochila que no es adecuada o que tiene un peso excesivo.
Más información
La Academia Americana de Pediatría (American Academy of Pediatrics) ofrece más información sobre la seguridad de las mochilas.
Artículo por HealthDay, traducido por HolaDoctor.com
© Derechos de autor 2019, HealthDay

FUENTE: American Academy of Orthopaedic Surgeons, news release, Aug. 19, 2019
Consumer News in Spanish