November 18, 2014
ASN: ACE Inhibitor Adequate for BP Control in ADPKD
Two studies show no benefit for ARB addition to ACE inhibitor in autosomal dominant polycystic kidney dz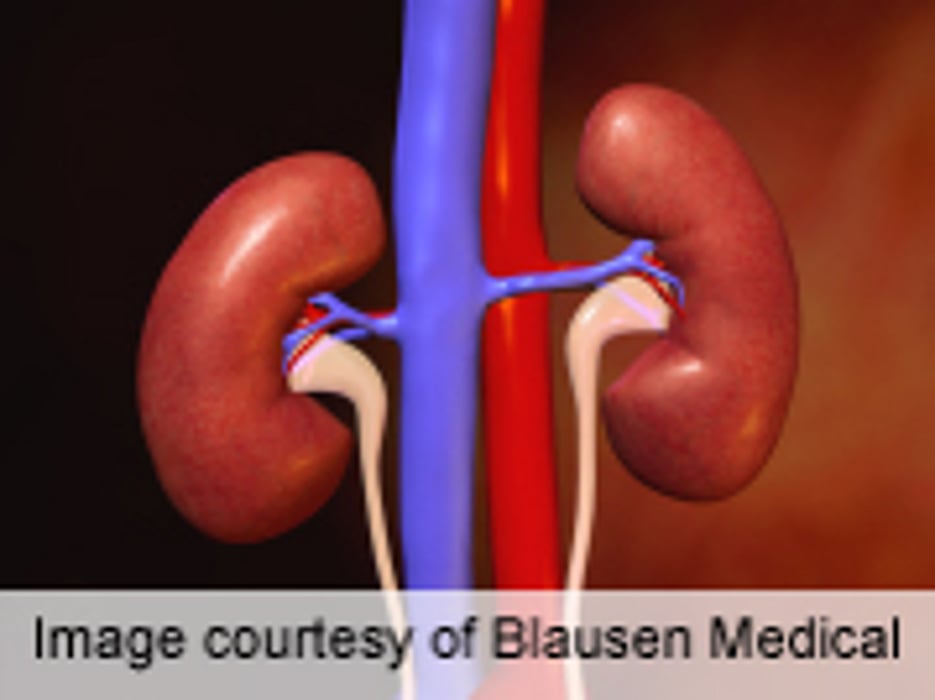 TUESDAY, Nov. 18, 2014 (HealthDay News) -- For patients with autosomal dominant polycystic kidney disease (ADPKD), the addition of telmisartan to lisinopril is not associated with improved outcomes or with a reduction in blood pressure, according to two studies published online Nov. 15 in the New England Journal of Medicine. The research was published to coincide with the American Society of Nephrology's Kidney Week 2014, held from Nov. 11 to 16 in Philadelphia.
Robert W. Schrier, M.D., from the University of Colorado in Denver, and colleagues randomized 558 early ADPKD patients with hypertension to a standard- or low-blood pressure target and to either lisinopril (angiotensin converting enzyme [ACE] inhibitor) plus telmisartan (angiotensin-receptor blocker) or to lisinopril plus placebo. The researchers found that the annual percentage increase in total kidney volume was significantly lower in the low- versus standard-blood-pressure group (5.6 versus 6.6 percent; P = 0.006), with no significant difference between the medication groups.
Vincent E. Torres, M.D., Ph.D., from the Mayo Clinic College of Medicine in Rochester, Minn., and colleagues randomized 486 patients with ADPKD to receive lisinopril and placebo or lisinopril and telmisartan to achieve blood pressure of 110/70 to 130/80 mm Hg. The researchers observed no between-group difference in the incidence of the composite primary outcome (time to death, end-stage renal disease, or 50 percent reduction from the baseline estimated glomerular filtration rate; hazard ratio with lisinopril-telmisartan, 1.08; 95 percent confidence interval, 0.82 to 1.42).
"[These two studies] show that blood pressure can be controlled with ACE inhibitors, drugs that have an acceptable safety profile," write the authors of an accompanying editorial.
Several authors from the Schrier study disclosed financial ties to the pharmaceutical industry.
Abstract - Schrier
Full Text
Abstract - Torres
Full Text
Editorial
More Information
Physician's Briefing