June 3, 2014
ERA-EDTA: New End Point Proposed for Kidney Disease
Smaller declines in estimated glomerular filtration rate are associated with disease progression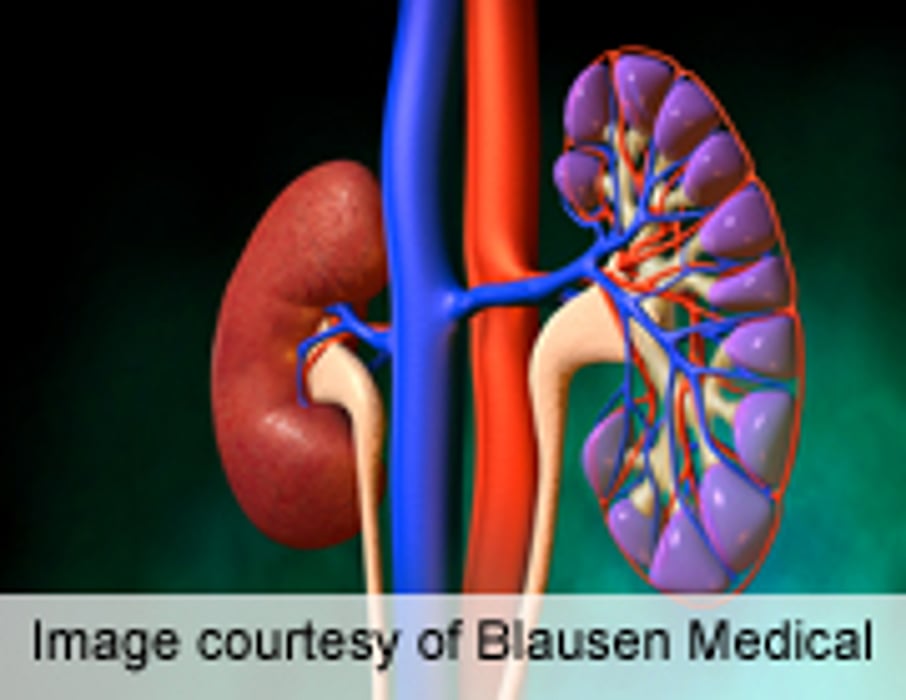 TUESDAY, June 3, 2014 (HealthDay News) -- Declines in the estimated glomerular filtration rate (GFR) offer an earlier end point for studying the progression of chronic kidney disease (CKD), according to research published online June 3 in the Journal of the American Medical Association. This research was published to coincide with presentation at the European Renal Association-European Dialysis and Transplant Association Congress, held from May 31 to June 3 in Amsterdam.
Josef Coresh, M.D., Ph.D., of the Johns Hopkins Bloomberg School of Public Health in Baltimore, and colleagues conducted individual meta-analysis of 1.7 million participants from 35 cohorts in the CKD Prognosis Consortium to assess the association between decline in estimated GFR and CKD progression.
The researchers found that, among participants with baseline estimated GFR of less than 60 mL/min/1.73 m², the adjusted hazard ratios for end-stage renal disease (ESRD) associated with changes in estimated GFR were 32.1 (95 percent confidence interval [CI], 22.3 to 46.3) for changes of −57 percent and 5.4 (95 percent CI, 4.5 to 6.4) for changes of −30 percent. However, changes of −30 percent or greater were more common (6.9 percent of the entire consortium; 95 percent CI, 6.4 to 7.4 percent) than changes of −57 percent (0.79 percent; 95 percent CI, 0.52 to 1.06 percent). A similar but weaker pattern was observed for mortality risks.
"Declines in estimated GFR smaller than a doubling of serum creatinine concentration occurred more commonly and were strongly and consistently associated with the risk of ESRD and mortality, supporting consideration of lesser declines in estimated GFR (such as a 30 percent reduction over two years) as an alternative end point for CKD progression," the authors write.
Two authors disclosed financial ties to pharmaceutical companies.
Physician's Briefing