June 30, 2014
Kidney Disease Risk Factors Present for Decades
Early identification of risk factors can lead to some modifications to cut risk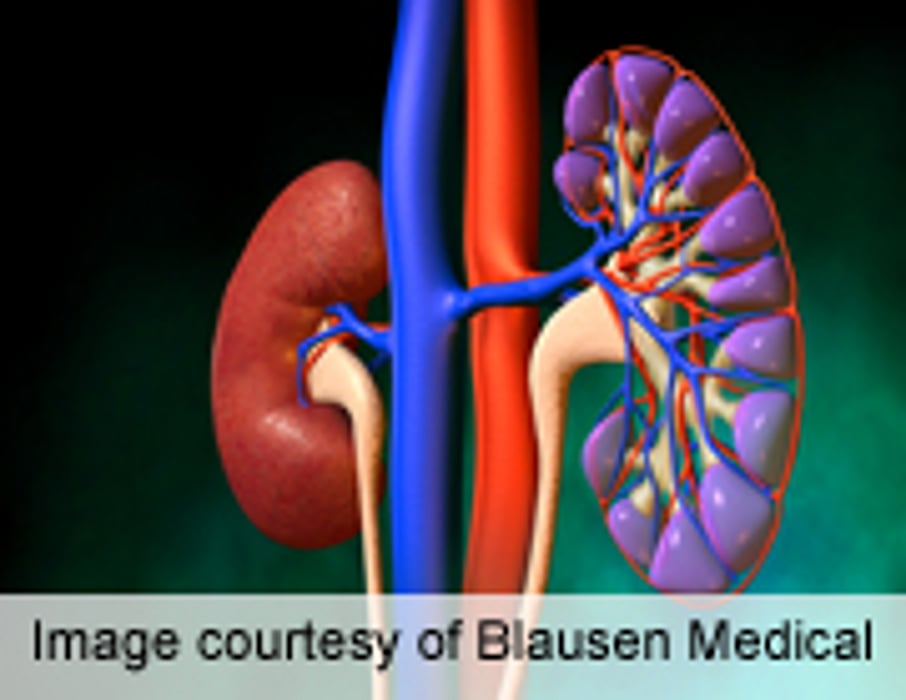 MONDAY, June 30, 2014 (HealthDay News) -- Risk factors for chronic kidney disease (CKD) can be detected 20 to 30 years before diagnosis, according to a study published online June 26 in the Journal of the American Society of Nephrology.
Gearoid M. McMahon, M.B., B.Ch., from the National Heart, Lung, and Blood Institute's Framingham Heart Study in Massachusetts, and colleagues used data from the Framingham Offspring Study to assess CKD risk factors among matched (1:2; based on age and sex) patients with incident CKD (estimated glomerular filtration rate, ≤60 ml/min/1.73 m²) at examination cycles 6, 7, and 8, and patients without CKD at examination 5.
The researchers found that 441 new cases of CKD were identified and matched to 882 controls (mean age, 69.2 years; 52.4 percent women). Hypertension (odds ratio [OR], 1.76), obesity (OR, 1.71), and higher triglycerides (OR, 1.43) were more likely to be present 30 years before CKD diagnosis in those who ultimately developed CKD. Additionally, those who ultimately developed CKD were more likely to have hypertension (OR, 1.38), higher triglyceride levels (OR, 1.35), lower high-density lipoprotein cholesterol (OR, 0.89), and diabetes (OR, 2.90) 20 years before CKD diagnosis.
"These findings demonstrate that risk factors for CKD are identifiable ≥30 years before diagnosis and suggest the importance of early risk factor identification in patients at risk of CKD," the authors write.
Physician's Briefing