April 24, 2019
Over Half of Seniors Initiating Dialysis Die Within One Year
Higher one-year mortality tied to activity-of-daily-living dependence, age ≥85, at least four comorbidities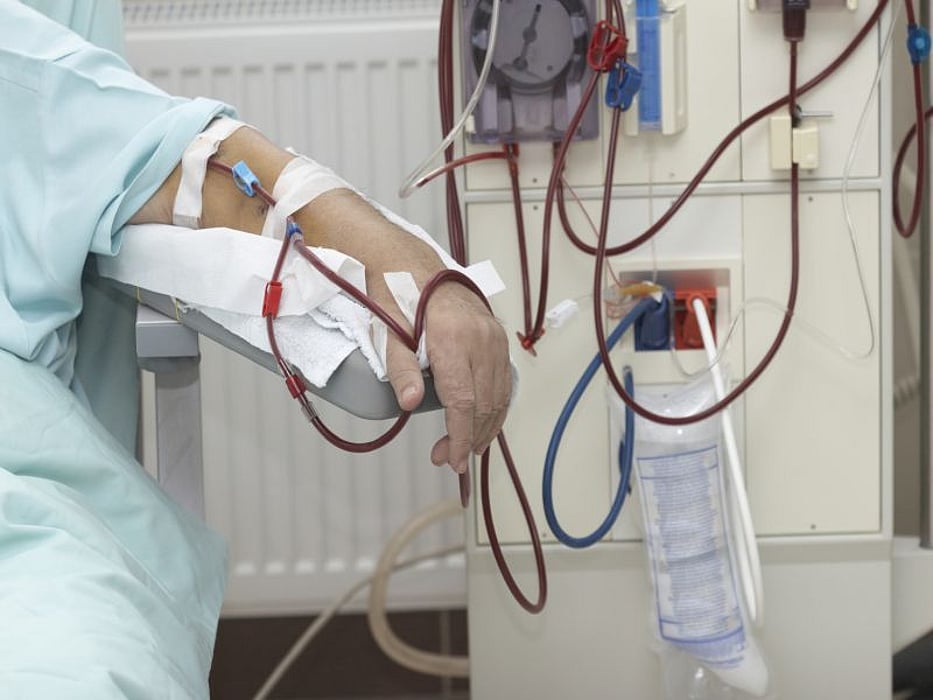 WEDNESDAY, April 24, 2019 (HealthDay News) -- More than half of Medicare beneficiaries initiating dialysis die within one year, according to a research letter published online April 22 in JAMA Internal Medicine.
Melissa W. Wachterman, M.D., from the Veterans Affairs Boston Health Care System, and colleagues used data from the Health and Retirement Study linked to Medicare claims and the National Death Index to describe mortality within the first year after dialysis initiation among patients aged 65.5 years and older. Mortality was calculated at 30, 180, and 365 days after dialysis initiation.
Of the 391 Medicare beneficiaries initiating dialysis, 17.4 percent were 85 years or older and 22.8 percent required assistance with one or more activities of daily living. The researchers found that death occurred in 22.5, 44.2, and 54.5 percent of patients within 30, 180, and 365 days of starting dialysis, respectively. Overall, 73.0, 70.6, and 62.2 percent of patients with activity-of-daily-living dependence, those aged 85 years or older, and those initiating dialysis as inpatients, respectively, had died at one year. Factors significantly associated with higher one-year mortality included activity-of-daily-living dependence, age 85 years or older, inpatient dialysis initiation, and having four or more comorbidities after multivariate adjustment (hazard ratios, 1.88, 1.85, 2.17, and 1.50, respectively).
"The limited survival among older patients who initiated dialysis may help to frame prognostic expectations and support more informative discussions about dialysis initiation in older adults," the authors write.
Abstract/Full Text (subscription or payment may be required)
Physician's Briefing