June 19, 2012
More Untreated Kidney Failure Seen in Older Adults
Treated kidney failure rate higher for young versus older adults; overall failure rates less variable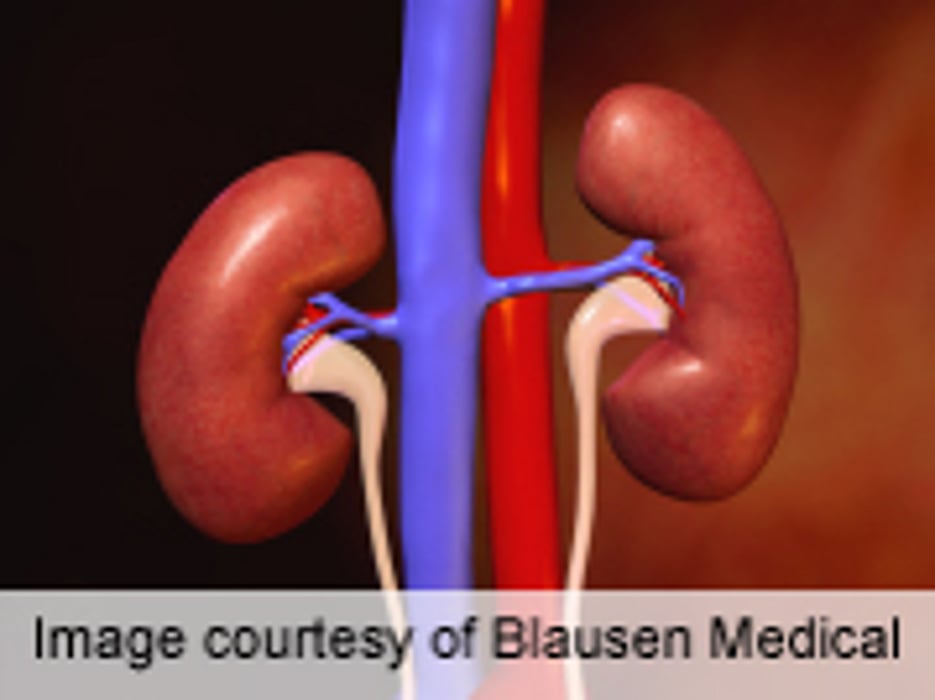 TUESDAY, June 19 (HealthDay News) -- The rate of untreated kidney failure is considerably higher in older adults than in younger adults, according to a study published in the June 20 issue of the Journal of the American Medical Association.
Brenda R. Hemmelgarn, M.D., Ph.D., from the University of Calgary in Canada, and colleagues conducted a community-based cohort study of 1,816,824 adults who had outpatient estimated glomerular filtration rate (eGFR) measured between May 2002 and March 2008. Baseline eGFR in the participants was 15 mL/min/1.73m² or higher and they did not require renal replacement therapy at baseline. Participants were categorized according to age and based on eGFR.
The researchers found that, during a median follow-up of 4.4 years, 5.36 percent of participants died and 0.18 and 0.17 percent, respectively, developed kidney failure that was treated and went untreated. The rate of treated kidney failure was higher in younger compared with older people within each eGFR stratum; for example, in the lowest eGFR stratum, the adjusted rates of treated kidney failure were 10-fold higher for those aged 18 to 44 years compared with those aged 85 years or older. At older ages, rates of untreated kidney failure were consistently higher. Across age groups, there was less variation in the overall rates of kidney failure (treated and untreated combined); for example, the adjusted rate per 1,000 person-years for eGFR 15 to 29 mL/min/1.73 m² was 36.45 for 18- to 44-year-olds and 20.19 for those aged 85 or older.
"In Alberta, Canada, rates of untreated kidney failure are significantly higher in older compared with younger individuals," the authors write.
One author disclosed financial ties to UpToDate; another author disclosed ties to Amgen.
Physician's Briefing