March 29, 2017
Arm, Hand Function Restored in Tetraplegic Patient
Researchers utilized functional electric stimulation + intracortical brain-computer interface system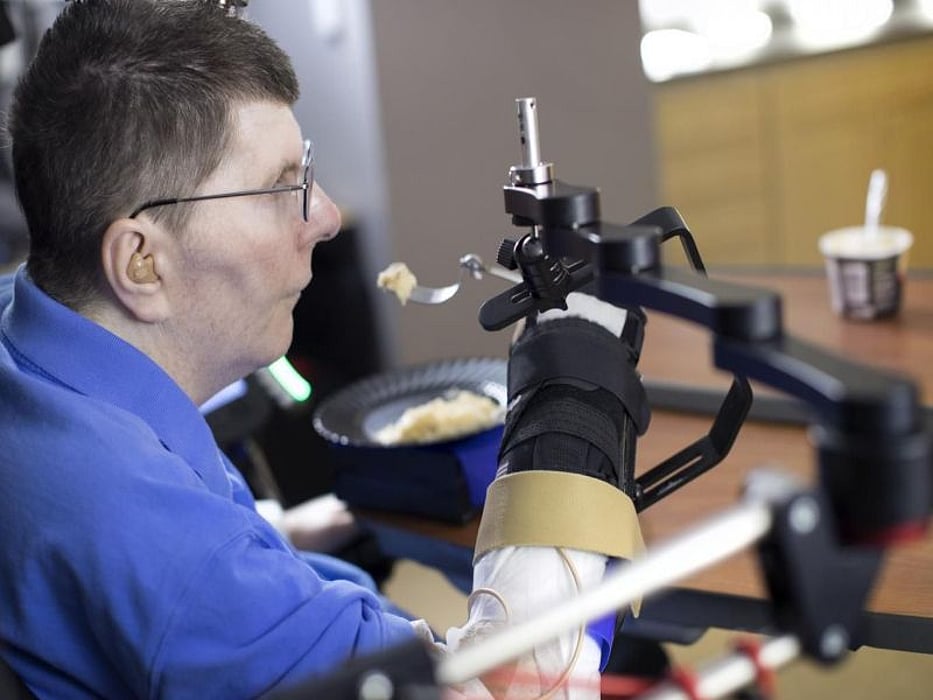 Bill Kochevar. Photo: Case Western/Cleveland FES Center
WEDNESDAY, March 29, 2017 (HealthDay News) -- For patients with high-cervical spinal cord injury, reaching and grasping using the paralyzed arm, reanimated through functional electrical stimulation (FES) + commanded using cortical signals through an intracortical brain-computer interface (iBCI), is feasible, according to a proof-of-concept demonstration study published online March 28 in The Lancet.
A. Bolu Ajiboye, Ph.D., from Case Western Reserve University in Cleveland, and colleagues recruited a 53-year-old man with a spinal cord injury. He received two intracortical microelectrode arrays in the hand area of his motor cortex and received 36 implanted percutaneous electrodes in his right upper and lower arm four and nine months later to electrically stimulate his hand, elbow, and shoulder muscles.
The researchers found that first using a virtual arm, and then using his own arm animated by FES, the patient was able to cortically command single-joint and coordinated multi-joint arm movements for point-to-point target acquisitions with 80 to 100 percent accuracy. The patient volitionally performed self-paced reaches to drink a mug of coffee using his paralyzed arm (successfully completing 11 of 12 attempts within a single session 463 days after implant) and was able to feed himself at 717 days after the implant.
"The present FES+iBCI system offers individuals with chronic tetraplegia from spinal cord injury the possibility of regaining lost arm and hand function to perform activities of daily life," the authors write.
Abstract
Full Text (subscription or payment may be required)
Editorial (subscription or payment may be required)
Physician's Briefing