February 6, 2014
Amputee 'Feels' Objects With Prosthetic Hand
Computer-assisted technology provides his first sense of touch in almost 10 years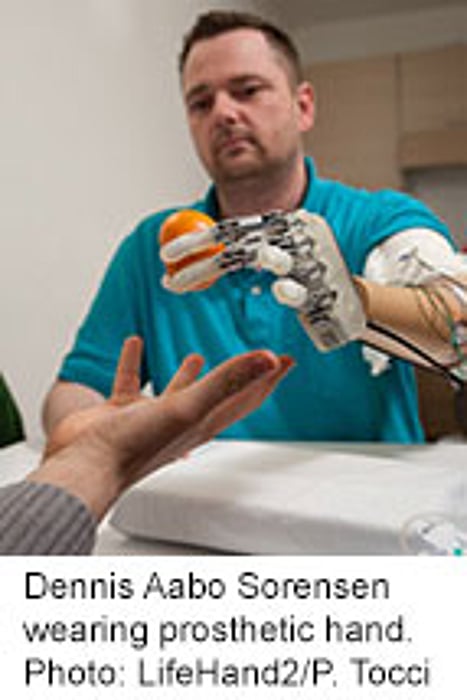 THURSDAY, Feb. 6, 2014 (HealthDay News) -- A Danish man who lost his left hand in an accident almost a decade ago recently was able to "feel" an object using a state-of-the-art prosthetic hand, researchers are reporting. Dennis Aabo Sorensen is the first amputee to feel what researchers call "sensory-rich information" in real time, according to the authors of a study published in the Feb. 5 issue of Science Translational Medicine.
Several European universities and hospitals collaborated to develop the "bionic" hand, which is outfitted with sensors in each finger that detect touch-related information. About a year ago, the artificial hand was connected to electrodes surgically implanted in nerves at the top of Sorensen's arm.The sensors in the hand sent an electrical signal to a computer.
Using algorithms, the scientists transformed the electrical signal into an impulse that was received and understood by the electrodes at the top of Sorensen's arm, which then relayed the signals into the nervous system. This is the first time such electrodes have been implanted into the peripheral nervous system of an amputee, the scientists said in a journal news release.
"During these experiments, he was voluntarily controlling the prosthetic hand," study author Stanisa Raspopovic, a researcher in the Translational Neural Engineering Lab at the Federal Polytechnic School of Lausanne in Switzerland, told HealthDay. "We are stimulating his nerves as close to the way that we are doing it naturally. We are transmitting information to the brain in a very clever way."
Full Article
Abstract
Full Text (subscription or payment may be required)
Physician's Briefing