April 18, 2014
Gravity Does Not Hinder Placental Transfusion at Birth
Holding infant on chest or abdomen during delay of cord clamping is acceptable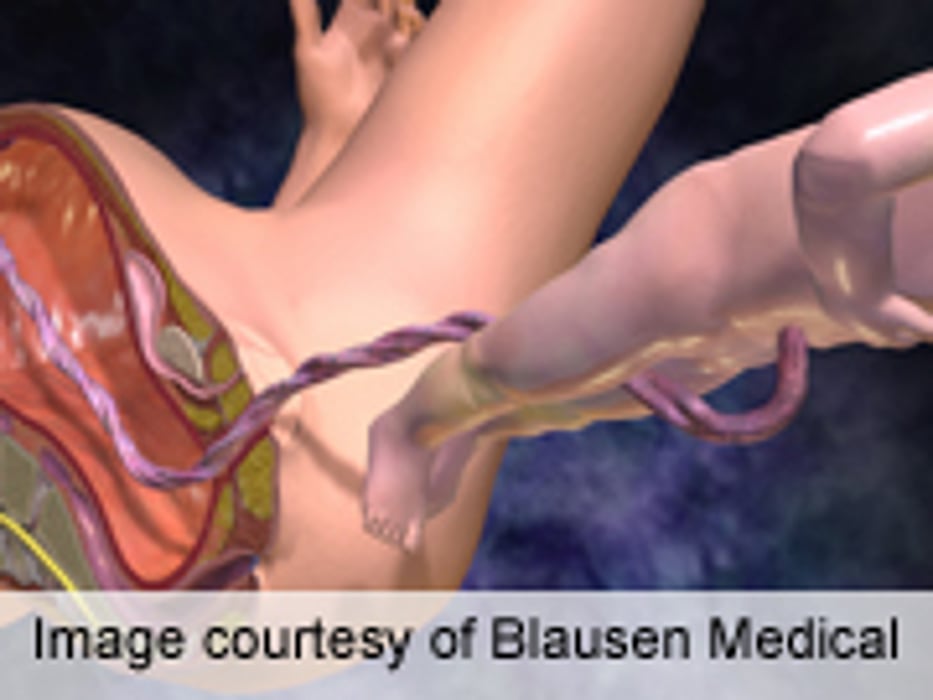 FRIDAY, April 18, 2014 (HealthDay News) -- Position of the baby before the cord is clamped does not appear to influence the volume of placental transfusion, according to research published online April 17 in The Lancet.
Nestor E. Vain, M.D., of the University of Buenos Aires in Argentina, and colleagues analyzed data from eligible healthy babies born vaginally who were randomly assigned to a two-minute period of holding, at either the level of the vagina (introitus group; 197 babies) or on the mother's abdomen or chest (abdomen group; 194 babies), before clamping of the umbilical cord.
The researchers found that the mean weight change, a proxy of placental transfusion volume, was 56 g (95 percent confidence interval [CI], 50 to 63) in the introitus group and 53 g in the abdomen group (95 percent CI, 46 to 59), a difference of 3 g (95 percent CI, −5.8 to 12.8; P = 0.45). No serious adverse events were reported in either group.
"Position of the newborn baby before cord clamping does not seem to affect volume of placental transfusion. Mothers could safely be allowed to hold their baby on their abdomen or chest," the authors write. "This change in practice might increase obstetric compliance with the procedure, enhance maternal-infant bonding, and decrease iron deficiency in infancy."
Abstract
Full Text (subscription or payment may be required)
Editorial (subscription or payment may be required)
Physician's Briefing