October 10, 2012
Hormone Replacement Therapy Initiated Early Deemed Safe
Ten years of HRT linked to reduced risk of composite of mortality, heart failure, MI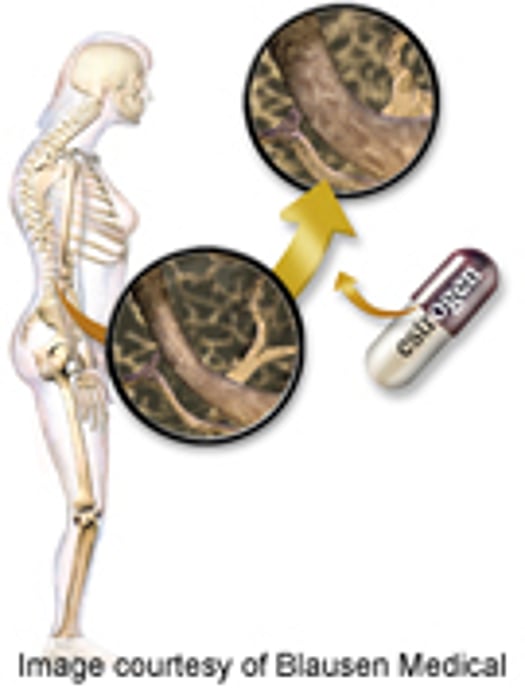 WEDNESDAY, Oct. 10 (HealthDay News) -- For women who receive hormone replacement therapy soon after menopause, long-term cardiovascular outcomes are good, with no increase in the risk of any cancer, according to a study published online Oct. 9 in BMJ.
Louise Lind Schierbeck, M.D., from Hvidovre Hospital in Denmark, and colleagues examined the long-term effect of hormone replacement therapy on cardiovascular outcomes using data from 1,006 healthy women, aged 45 to 58 years, who were recently postmenopausal. Participants were randomly allocated to receive hormone replacement therapy (502 women) or no treatment (504 women). Treatment consisted of triphasic estradiol and norethisterone acetate for women with an intact uterus and estradiol for those who had undergone hysterectomy.
After 10 years of intervention, the researchers found that 16 women in the treatment group had experienced the primary composite end point of death, admission to hospital for heart failure, and myocardial infarction, compared with 33 women in the control group (hazard ratio [HR], 0.48; P = 0.015). Fifteen women died in the intervention group, compared with 26 controls (HR, 0.57; P = 0.084). The reduction in cardiovascular events did not correlate with an increase in any cancer or in breast cancer. The hazard ratios for deep vein thrombosis and for stroke were not statistically significant. After 16 years of follow-up, the primary composite end point was still lower in the intervention group and there was no associated increase in any cancer.
"After 10 years of follow-up, women receiving hormone replacement therapy early after menopause had a significantly reduced risk of mortality, heart failure, or myocardial infarction, without any apparent increase in risk of cancer, venous thromboembolism, or stroke," the authors write.
Two authors disclosed financial ties to pharmaceutical companies, including Novartis, which together with Novo Nordisk and LEO Pharma, provided the study drugs free of charge and partially funded the study.
Physician's Briefing