December 8, 2017
Structural Findings of Acute Solar Retinopathy Described
Patient in case study presented three days after viewing solar eclipse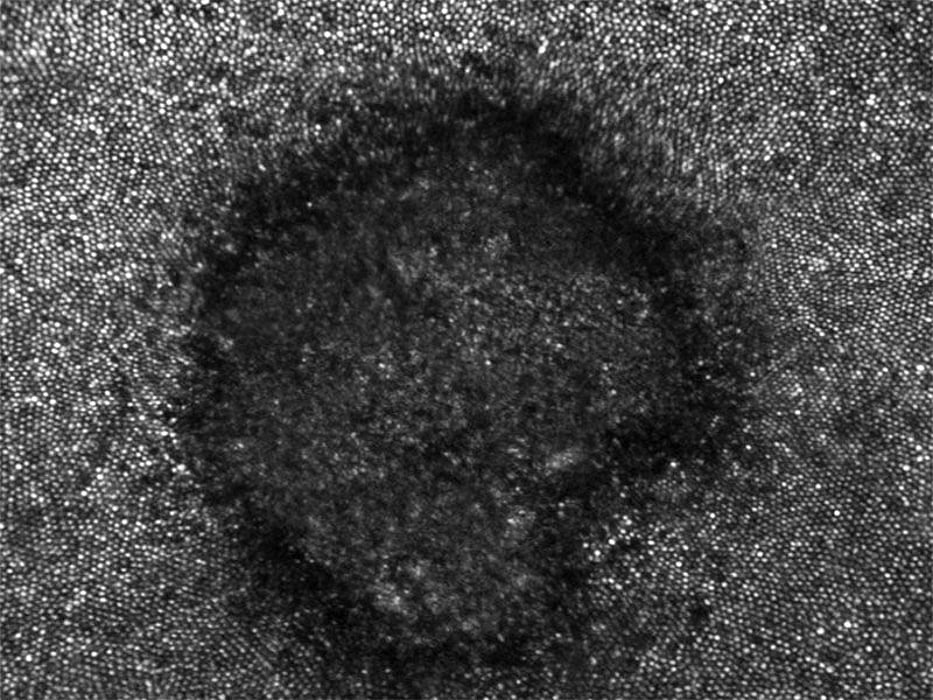 Retinal damage from eclipse. Photo: The JAMA Network
FRIDAY, Dec. 8, 2017 (HealthDay News) -- Acute solar retinopathy can result in localized foveal cone photoreceptor injury and dysfunction, according to a new case study published online Dec. 7 in JAMA Ophthalmology.
A New York woman presented with symptoms of acute solar retinopathy after viewing the solar eclipse on Aug. 21, 2017, for approximately six seconds without protective glasses and then again for approximately 15 to 20 seconds with eclipse glasses of an unknown manufacturer. Four hours later, she noted blurred vision, metamorphopsia, and color distortion (all worse in left eye). The patient also reported a central black spot in the left eye.
A team from the New York Eye and Ear Infirmary and the Icahn School of Medicine, both at Mount Sinai in New York City, examined the patient. High-resolution images of foveal cone photoreceptor mosaic disturbance were seen via adaptive optics scanning light ophthalmoscopy, with corresponding reflectivity changes on en face optical coherence tomography. Optical coherence tomography angiography was found to be normal in both eyes, while microperimetry revealed an absolute central scotoma in the more affected eye.
"We have never seen the cellular damage from an eclipse because this event rarely happens and we haven't had this type of advanced technology to examine solar retinopathy until recently," study author Avnish Deobhakta, M.D., said in a Mount Sinai news release.
Physician's Briefing