December 2, 2013
RSNA: Platelet Rich Plasma Treatments Benefit Tendinosis
Improvement in functionality, reduction in pain for athletes with Achilles or patellar tendinosis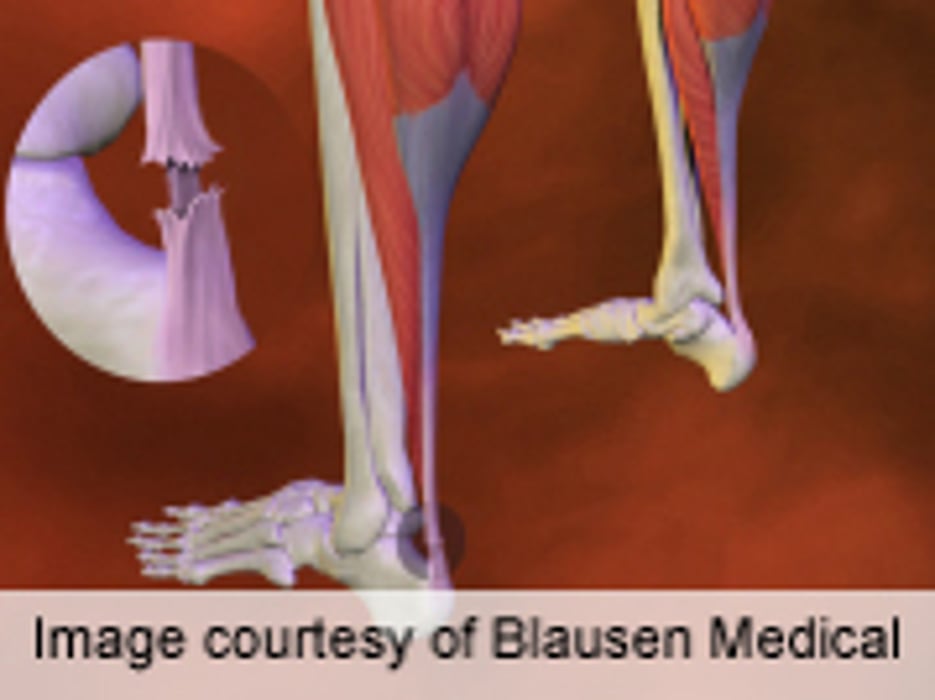 MONDAY, Dec. 2, 2013 (HealthDay News) -- For athletes with Achilles or patellar tendinosis, platelet rich plasma (PRP) infiltrations are beneficial, according to a study presented at the annual meeting of the Radiological Society of North America, held from Dec. 1 to 6 in Chicago.
Alice La Marra, M.D., from the University of L'Aquila in Italy, and colleagues examined the impact of PRP in 50 athletes with degenerative Achilles tendinosis and 30 with degenerative patellar tendinosis. Participants underwent three PRP ultrasound-guided infiltrations every 21 days.
In patients with Achilles tendinosis, the researchers found that there was an improvement of 80 percent on the visual analog scale (VAS) for pain and of 53 percent on the Victorian Institute of Sport Assessment (VISA)-Achilles questionnaire for functionality. For patients with patellar tendinosis, the VAS improved by 75 percent and VISA-Patellar for functionality improved by 50 percent. In 90 percent of patients, there was a partial or complete morphological recovery and normalization of the magnetic resonance imaging (MRI) signal. In 39 of 50 Achilles cases and 18 of 30 patellar cases, there was a reduction of sectional area. A 10 percent increase in area was noted in eight patients and a 15 percent increase in five patients, respectively.
"Our study showed that in patients who underwent PRP treatments, there was an improvement of functionality, a decrease in pain, and a normalization of the signal intensity seen on MRI," La Marra said in a statement.
Physician's Briefing