September 9, 2014
Disk Replacement Preserves Long-Term Spinal Motion
Findings based on 30-year follow-up of disk replacement in young patients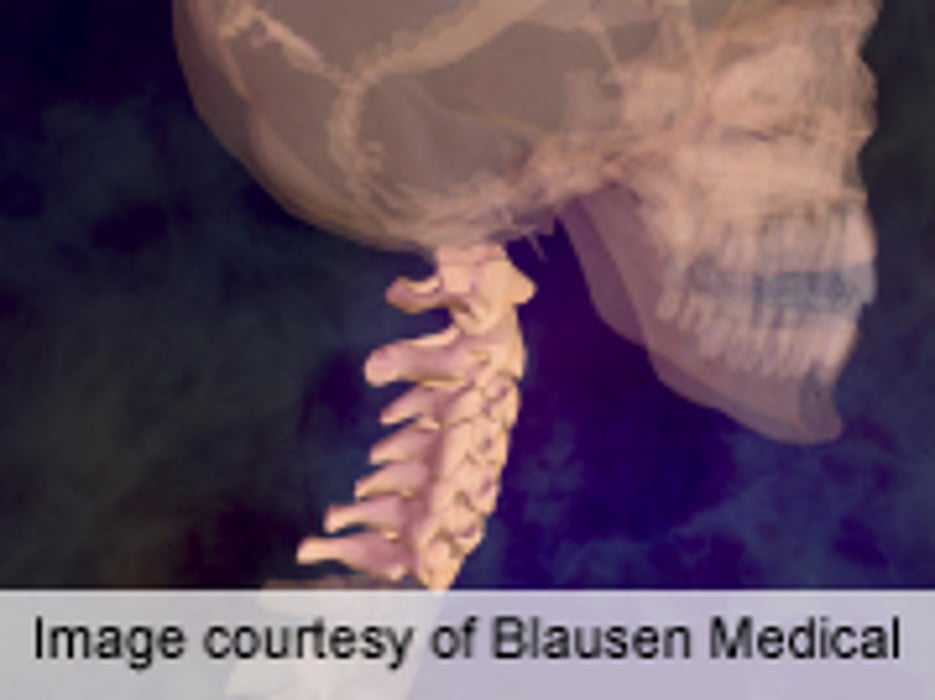 TUESDAY, Sept. 9, 2014 (HealthDay News) -- For treatment of degenerative cervical disk disorders in young patients, artificial disk replacement can preserve the motion of the spinal unit, according to a study published in the September issue of Spine.
Haisong Yang, M.D., from Changzheng Hospital in China, and colleagues assessed follow-up data (average 30 years) in 21 patients (mean age of 38) who underwent artificial disk replacement between 1980 and 1985. Radiographical evaluations of heterotopic ossification, segmental range of motion, and adjacent segmental changes were assessed. Patients self-reported neurological function and pain severity using preoperative and postoperative visual analogue scale, neck disability index, and 36-Item Short Form Health Survey questionnaires.
The researchers found that all patients reported improvement of preoperative neurological symptoms. Motion was preserved at the last follow-up in 19 of the 26 segments (73 percent). No symptomatic adjacent segment degeneration was reported. The majority of the patients (19) demonstrated heterotopic ossification, but none of them underwent related reoperation. There were no device-related adverse events documented.
"Artificial disk replacement to treat degenerative cervical disk disorders can preserve the motion of the spinal unit in young patients, which fulfills the original purpose of its design," the authors write. "However, whether this procedure can prevent adjacent segment degeneration will require further investigation."
Abstract
Full Text (subscription or payment may be required)
Physician's Briefing