July 26, 2012
New Cervical Spine Stability Procedure Described
New technique, 'skip' corpectomy, may be a good alternative to standard three-level corpectomy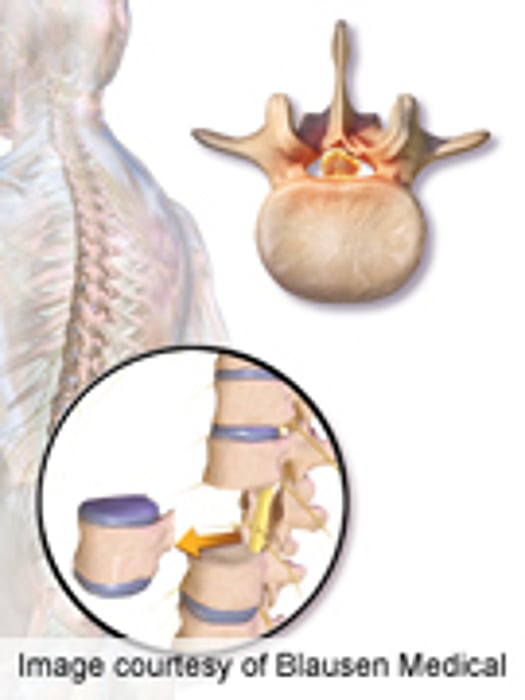 THURSDAY, July 26 (HealthDay News) -- A "skip" corpectomy, in which the middle vertebra is left intact, may prove to be a good alternative to the standard three-level corpectomy procedure for cervical spine stability, according to a study published online July 13 in the Journal of Spinal Disorders & Techniques.
Murat Yilmaz, M.D., of the Lütfi Kirdar Kartal Teaching and Research Hospital in Istanbul, and colleagues conducted an in vitro biomechanical study to compare cervical spine stability after a plated standard three-level corpectomy procedure and a plated three-level skip corpectomy procedure. Cervical specimens came from 14 cadaver specimens.
Although the plated 'skip' corpectomy procedure tended to be more stable when compared with plated standard corpectomy, the researchers found that the difference was not statistically significant. The plated skip corpectomy procedure did, however, result in a 15 percent reduction in the peak screw pull-out force that occurs during axial rotation when a four-screw attachment was used; a 19 percent reduction was seen when a six-screw attachment was used.
"Skip corpectomy is a good alternative to standard three-level corpectomy to improve stability, especially during lateral bending. Under pure moment loading, the screws of a cervical multilevel plate experience the highest pullout forces during axial rotation," the authors write. "Thus limiting this movement in patients undergoing plated multilevel corpectomy may be reasonable, especially until solid fusion is achieved."
Two authors disclosed financial ties to the medical device/technology industries.
Abstract
Full Text (subscription or payment may be required)
Physician's Briefing