May 16, 2013
Study Compares Surgical Procedures for Spinal Stenosis
Fewer complications, but higher rate of revision surgery for interspinous process with spacer alone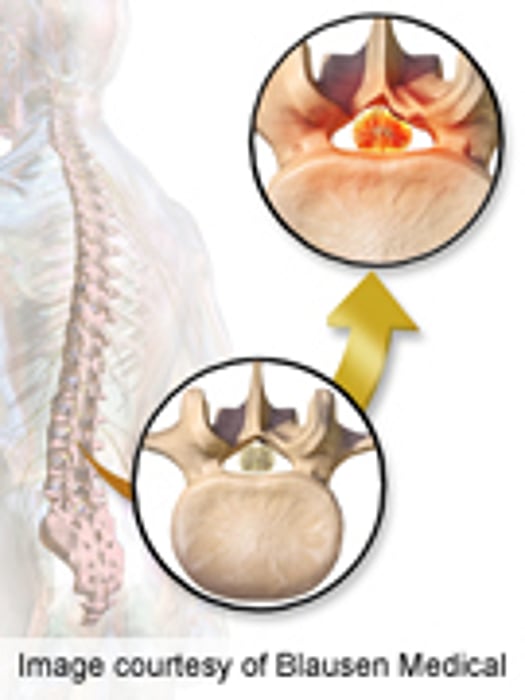 FRIDAY, May 10 (HealthDay News) -- For patients with spinal stenosis undergoing surgery, an interspinous process with spacer alone is associated with fewer complications but higher rates of revision surgery compared with decompression or fusion, according to a study published in the May 1 issue of Spine.
Richard A. Deyo, M.D., M.P.H., from the Geisel School of Medicine at Dartmouth in Hanover, N.H., and colleagues retrospectively analyzed Medicare inpatient claims data for 2006 to 2009 for 99,084 patients with spinal stenosis undergoing surgery with an interspinous process spacer alone; laminectomy and a spacer; decompression alone; or one to two level lumbar fusion.
The researchers found that patients who received spacers had little evidence of greater comorbidity, but were older than those undergoing decompression or fusion. There were fewer major medical complications for those who received a spacer alone (1.2 percent), compared with those undergoing decompression (1.8 percent) or fusion (3.3 percent); however, the rates of further inpatient lumbar surgery were higher (16.7 percent for spacer versus 8.5 percent for decompression and 9.8 percent for fusion at two years). For spacer surgery, hospital payments were greater than those for decompression alone, and less than those for fusion procedures. After adjustment for patient age, sex, comorbidity score, and previous hospitalization, these associations persisted.
"Compared with decompression or fusion, interspinous distraction procedures pose a trade-off in outcomes: fewer complications for the index operation, but higher rates of revision surgery," the authors write. "This information should help patients make more informed choices, but further research is needed to define optimal indications for these new devices."
Abstract
Full Text (subscription or payment may be required)
Physician's Briefing