February 21, 2013
Higher Risk of Hip Implant Failure for Women Than Men
After adjustment, women have 29 percent increased risk of all-cause revision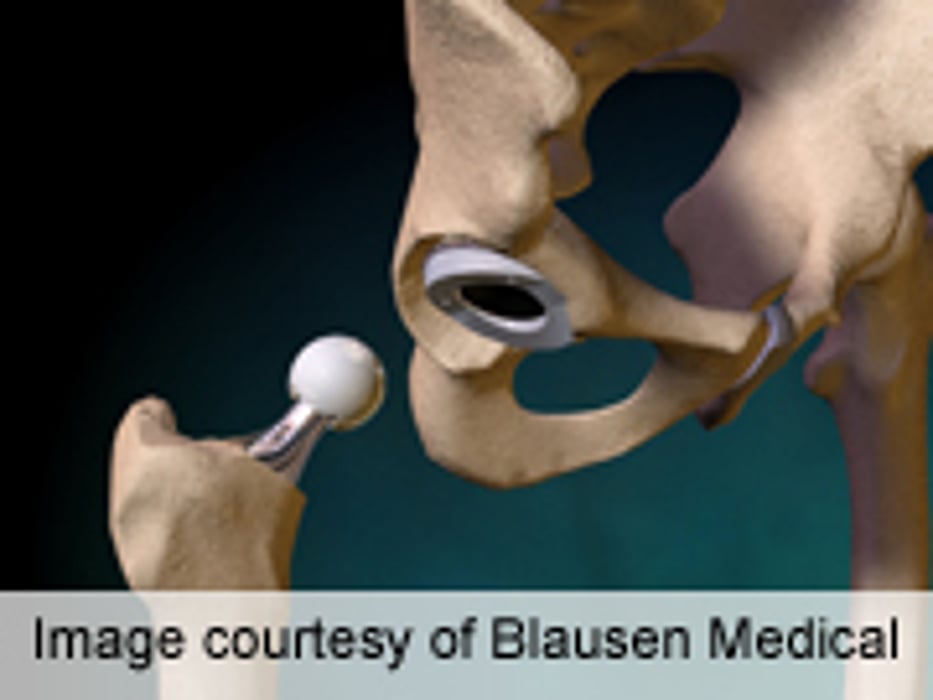 THURSDAY, Feb. 21 (HealthDay News) -- After adjustment, implant failure is more likely for women than men who undergo total hip arthroplasty (THA), according to a study published online Feb. 18 in JAMA Internal Medicine.
Maria C. S. Inacio, from Southern California Permanente Medical Group in San Diego, and colleagues conducted a prospective evaluation of a cohort of patients undergoing primary, elective, unilateral THA, enrolled in a total joint replacement registry from April 2001, through December 2010. The patients (mean age, 65.7 years; 57.5 percent women) underwent 35,140 THAs, with a median follow-up of 3.0 years.
The researchers found that a higher proportion of women than men received 28-mm femoral heads (28.2 versus 13.1 percent) and had metal on highly cross-linked polyethylene-bearing surfaces (60.6 versus 53.7 percent); whereas a higher proportion of men than women had 36-mm or larger heads (55.4 versus 32.8 percent) and metal on metal-bearing surfaces (19.4 versus 9.6 percent). Implant survival was 97.4 percent at five-year follow-up. In men, device survival was significantly higher than in women (97.7 versus 97.1 percent; P = 0.01). After adjustment, women had a significantly increased risk of all-cause revision (hazard ratio, 1.29), aseptic revision (hazard ratio, 1.32), and an increased risk of septic revision (hazard ratio, 1.17; 95 percent confidence interval, 0.81 to 1.68).
"After considering patient-, surgery-, surgeon-, volume-, and implant-specific risk factors, women had a 29 percent higher risk of implant failure than men after THA in this community-based sample," write the authors.
Abstract
Full Text (subscription or payment may be required)
Editorial (subscription or payment may be required)
Physician's Briefing