January 7, 2014
Dynamic Stabilization, Fusion Achieve Comparable Outcomes
Findings in elderly patients with degenerative lumbar scoliosis with at least five years of follow-up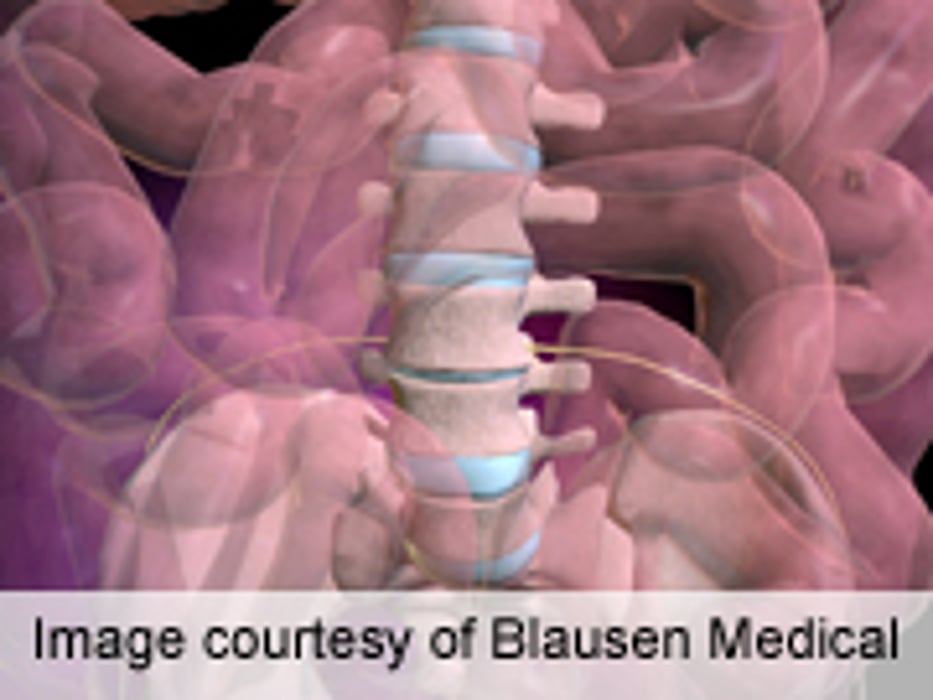 TUESDAY, Jan. 7, 2014 (HealthDay News) -- Pedicle screw-based dynamic stabilization yields similar functional outcomes to instrumented posterior fusion in elderly patients with degenerative scoliosis, with fewer adverse outcomes, according to a study published in the Jan. 1 issue of The Spine Journal.
Mario Di Silvestre, M.D., from Istituti Ortopedici Rizzoli in Bologna, Italy, and colleagues retrospectively compared dynamic stabilization without fusion (32 patients) and posterior instrumented fusion (25 patients) for the treatment of degenerative lumbar scoliosis in 57 elderly patients (45 women; mean age, 68.1 years). Clinical outcomes were measured with the Oswestry Disability Index, visual analog scale, Roland- Morris Disability Questionnaire, and radiological findings (scoliosis and lordosis corrections).
The researchers found that, after an average 64 months of follow-up, clinical improvements were similar in both groups. Posterior fusion yielded statistically superior scoliosis and final lordosis corrections (56.9 versus 37.3 percent and −46.8 versus −35.8 degrees, respectively). The dynamic group, though, had a lower incidence of overall complications (25 versus 44 percent), and fewer patients required revision surgery (6.2 versus 16 percent). The dynamic group also had lower average values of operative duration (190 versus 240 minutes) and blood loss (950 versus 1,400 cc), compared to the fusion group.
"In elderly patients with degenerative lumbar scoliosis, pedicle screw-based dynamic stabilization was less invasive with shorter operative duration, less blood loss, and lower adverse event rates than instrumented posterior fusion," the authors write.
Physician's Briefing