May 23, 2014
Bone Morphogenetic Protein Can Replace Autogenous Bone
Findings for certain cases of adults undergoing lumbar arthrodesis for degenerative disc disease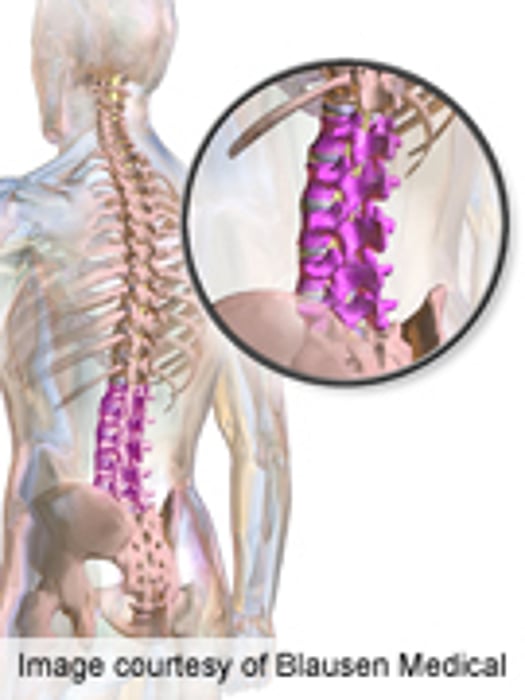 FRIDAY, May 23, 2014 (HealthDay News) -- Bone morphogenetic protein (BMP) is a good alternative to autogenous bone graft in certain cases of lumbar arthrodesis for degenerative disc disease (DDD), according to research published in the May issue of the Journal of Spinal Disorders & Techniques.
Andriy Noshchenko, Ph.D., from the University of Colorado in Aurora, and colleagues conducted a systematic literature review to identify studies comparing the perioperative and long-term postoperative effectiveness of BMP versus iliac crest autologous bone graft (ICBG) for lumbar arthrodesis in adults with DDD.
The researchers identified eight randomized controlled clinical trials (1,138 participants). The BMP and ICBG groups had similar pooled two-year postoperative clinical outcomes. There was increased pain and complications at the donor site (P < 0.01) associated with ICBG. With BMP, the pooled average operative time was 21 minutes less than with ICBG (P < 0.001). In the BMP group, the pooled rate of additional surgical treatment was two times less than in the ICBG groups (P = 0.006). Additionally, at 24-month follow-up, the pooled risk of nonunion was two times less in the BMP versus in the ICBG groups (P = 0.037), although this effect may have been biased.
"BMP, in particular recombinant human BMP-2, is a good alternative to autogenous bone graft, especially in cases when harvesting of autologous bone is contraindicated or undesirable, operation time is limited, and there are no contraindications for BMP use," the authors write. "However, the current study did not reveal evidence robust enough to develop strong medical recommendations concerning BMP use for lumbar arthrodesis in degenerative disc disease."
Abstract
Full Text (subscription or payment may be required)
Physician's Briefing