April 12, 2013
AAPM: Bone-Marrow Autografts May Help Reduce Low Back Pain
Injection of mesenchymal cell concentrate relieved discomfort in small study of 24 patients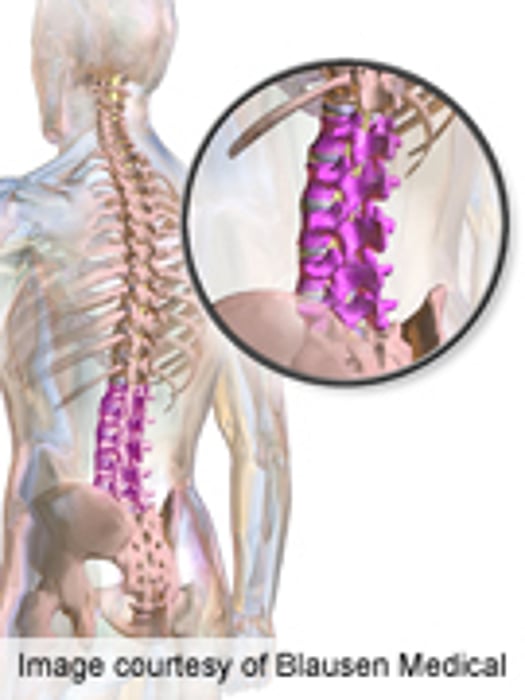 FRIDAY, April 12 (HealthDay News) -- Injection of autologous, bone marrow mesenchymal cell concentrate (BMAC) into degenerated lumbar discs may relieve low back pain of discogenic origin, according to research presented at the American Academy of Pain Medicine's 29th Annual Meeting, April 11-14, in Fort Lauderdale, Fla.
D. Joseph Meyer Jr., M.D., Ph.D., of the Columbia Interventional Pain Center in Columbia, Mo., and colleagues conducted a retrospective study of 24 consecutive patients treated with injections of autologous BMAC into degenerated lumbar discs for pain relief.
According to the researchers, of the 24 patients treated with BMAC injections, 12 patients received only one treatment, and 12 patients received one or more lumbar injections or surgical treatments. None of the patients reported worsening of pain after BMAC injections. Of the 12 patients who received only one treatment of lumbar disc BMAC, 10 patients reported to have pain relief at two to four months. Long-term efficacy and safety results are pending.
"The results of our case review are encouraging," said Meyer in a statement. "Currently, when conservative treatment measures fail, therapeutic options are limited for individuals with back pain due to disc degeneration. Many resort to disc surgery or spinal fusion with mediocre results. Our goal is to help develop a safe, natural method to boost the body's own capacity to heal discogenic pain."
Physician's Briefing