September 11, 2012
Many Disease Variants Found in Regulatory DNA Regions
Disease-associated variants perturb transcription factors and alter allelic chromatin states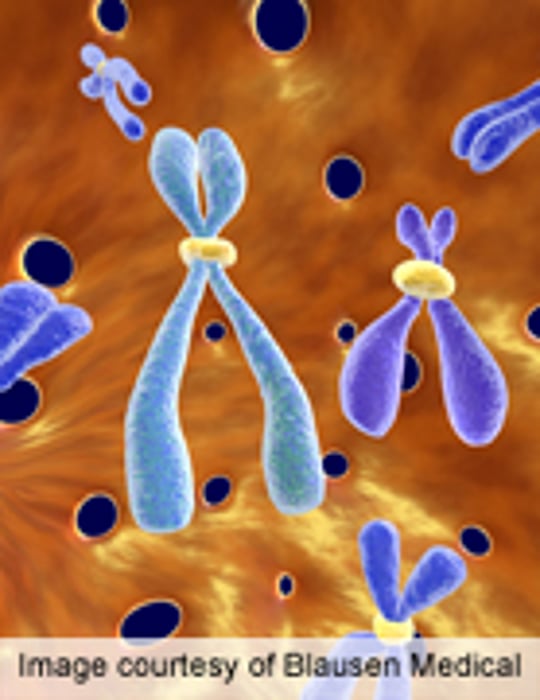 TUESDAY, Sept. 11 (HealthDay News) -- Most of the gene variants associated with disease are located within regulatory DNA regions, according to a study published in the Sept. 7 issue of Science.
Noting that about 93 percent of disease- and trait-associated variants identified in genome-wide association studies map to noncoding DNA, Matthew T. Maurano, from the University of Washington in Seattle, and colleagues performed genome-wide DNA mapping using deoxyribonuclease I (DNase I) in 349 cell and tissue samples, including different cell types and fetal tissue at various stages of development.
The researchers identified 3,899,693 distinct regulatory regions (marked by hypersensitivity to DNase I), with an average of 198,180 per cell type. Of 5,654 noncoding genome-wide significant associations with diseases or traits, they found that 76.6 percent were within a regulatory region or tightly linked to one. Of 2,931 noncoding variants within regulatory regions globally, 88.1 percent were within regulatory regions that were active in fetal cells and tissues. Disease-associated variants were mainly localized in cell- and developmental stage-selective regulatory DNA, and they systematically perturbed transcription factor recognition sequences; altered allelic chromatin states; and formed regulatory networks. Tissue-selective enrichment of more weakly disease-associated variants was demonstrated within DNase I hypersensitive sites. Pathogenic cells types were identified for Crohn's disease, multiple sclerosis, and an electrocardiogram trait.
"Our results suggest pervasive involvement of regulatory DNA variation in common human disease and provide pathogenic insights into diverse disorders," Maurano and colleagues conclude.
Abstract
Full Text (subscription or payment may be required)
Editorial (subscription or payment may be required)
Physician's Briefing