July 18, 2014
Cord Clamping Timing Affects Neonatal Outcome
Delay in cord clamping after spontaneous respiration decreases risk of death/admission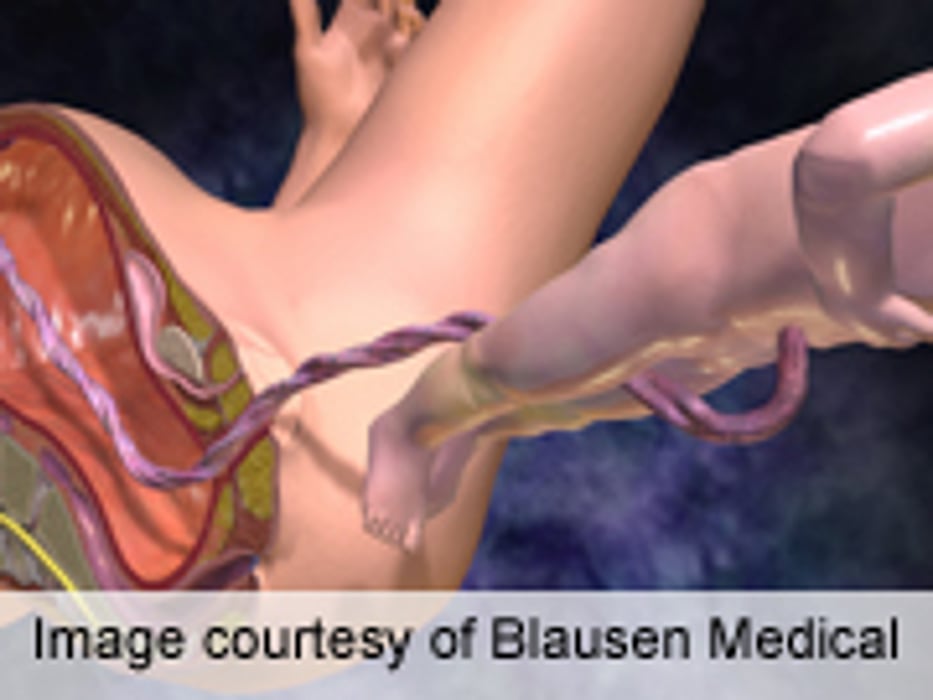 FRIDAY, July 18, 2014 (HealthDay News) -- If cord clamping (CC) occurs before or immediately after onset of spontaneous respiration (SR), healthy self-breathing neonates in a low-resource setting have a higher likelihood of admission/death, according to a study published online July 14 in Pediatrics.
Hege Langli Ersdal, Ph.D., from the Stavanger University Hospital in Norway, and colleagues analyzed delivery data obtained by trained research assistants working in a rural Tanzanian hospital (November 2009 to February 2013). Recorded data included time interval from birth to SR and CC, fetal heart rate, perinatal characteristics, and outcome (normal, death, admission).
The researchers found that, of the 15,563 infants born, 12,780 (84.3 percent) initiated SR at 10.8 ± 16.7 seconds, and CC occurred at 63 ± 45 seconds after birth. The vast majority (99.7 percent) had normal outcomes, but there were 31 deaths and 19 admissions. Birth weight (BW) ≥2,500 g occurred in 11,967 cases, and 813 had BW <2,500 g. The risk of death/admission was consistently higher if CC occurred before SR. Death and admission were more likely in infants of BW <2,500 g. For every 10-second delay in CC after SR, the risk of death/admission decreased by 20 percent.
"These clinical observations support the experimental findings of a smoother cardiovascular transition when CC is performed after initiation of ventilation," the authors write.
Abstract
Full Text (subscription or payment may be required)
Physician's Briefing