June 7, 2012
Early Rapid Growth Partly Mediates Genetic Obesity Risk
Children at higher genetic risk have rapid early weight gain; reach adiposity rebound earlier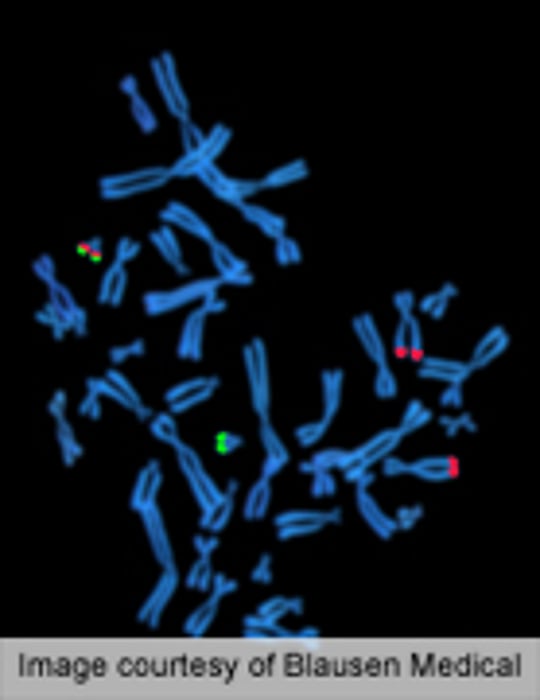 THURSDAY, June 7 (HealthDay News) -- Developmental phenotypes partially mediate the link between genetic predisposition and adult obesity, according to a study published in the June issue of the Archives of Pediatrics & Adolescent Medicine.
Daniel W. Belsky, Ph.D., from the University of North Carolina in Chapel Hill, and colleagues examined data from 1,037 participants of a prospective longitudinal study of a birth cohort. Single-nucleotide polymorphisms related to obesity phenotypes were identified in genome-wide association studies and made up the genetic risk score. At age 11 years, participants' family history was assessed from parent body mass index data. Obesity outcomes were measured from anthropometric assessments at birth and at 12 subsequent in-person interviews through 38 years of age.
The researchers found that individuals with higher genetic risk scores were more likely to be chronically obese in adulthood. Genetic risk was not correlated with birth weight; however, after birth, those at higher genetic risk gained weight more rapidly and reached adiposity rebound earlier and at a higher body mass index. Adult obesity was predicted by these developmental phenotypes, which mediated about half the genetic effect on adult obesity risk. The observed genetic associations with growth and obesity risk were independent of family history.
"Genetic variation linked with obesity risk operates, in part, through accelerating growth in the early childhood years after birth," the authors write. "Etiological research and prevention strategies should target early childhood to address the obesity epidemic."
Physician's Briefing