October 16, 2019
Sweetened Drinks Represent Majority of Children's Drink Sales
Unsweetened 100 percent juice drinks represent just 38 percent of children's drink sales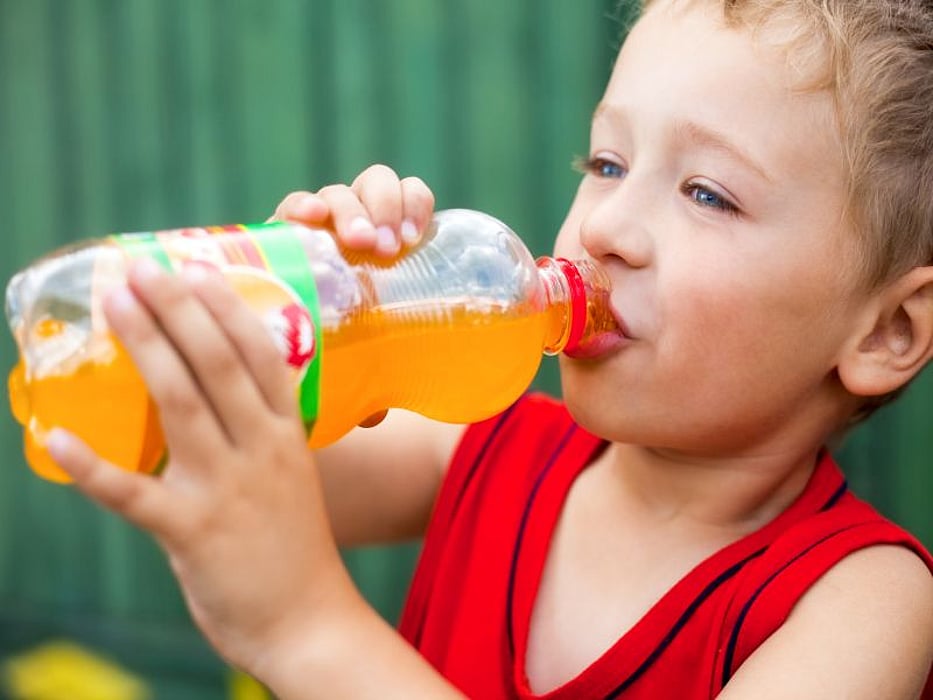 WEDNESDAY, Oct. 16, 2019 (HealthDay News) -- None of the 34 top-selling sweetened children's drinks meet expert recommendations for healthier drinks for children, according to Children's Drink FACTS 2019, a new report from the Rudd Center for Food Policy & Obesity at the University of Connecticut.
Jennifer L. Harris, Ph.D., from the University of Connecticut in Storrs, assessed the sales, nutrition, and marketing of children's drinks (those intended for children to consume). Using syndicated market research data, nutrition content and on-package marketing were assessed, as were advertising spending in all media (television, magazines, and digital) and exposure to television advertising by preschoolers (2 to 5 years) and children (6 to 11 years).
The authors found that fruit drinks and flavored waters that contain added sugars and/or low-calorie (diet) sweeteners account for 62 percent of children's drink sales. The vast majority of children's drinks (85 percent) contain images of fruit on the packaging, but only 35 percent actually contain fruit juice. One-third of all children's fruit drinks contain 4 teaspoons of sugar per serving. Yet, during the past five years, the researchers found some improvements. With the exception of one sugar-sweetened children's fruit drink, licensed characters only appeared on children's drinks without added sweeteners (primarily 100 percent juice). However, the authors say there is still room for improvement. They recommend that beverage manufacturers clearly indicate that products contain added sugars and/or low-calorie sweeteners and state the percent juice content on the front of children's drink packages. Additionally, drinks with added sugars and/or low-calorie sweeteners should not be marketed directly to children.
"Beverage companies have said they want to be part of the solution to childhood obesity, but they continue to market sugar-sweetened children's drinks directly to young children on TV and through packages designed to get their attention in the store," Harris said in a statement. "Parents may be surprised to know that pediatricians, dentists, and other nutrition experts recommend against serving any of these drinks to children."
Physician's Briefing