August 23, 2007
Researchers Spur 'Out-of-Body' Sensation in Healthy Subjects
Visual trick makes them believe their body is somewhere else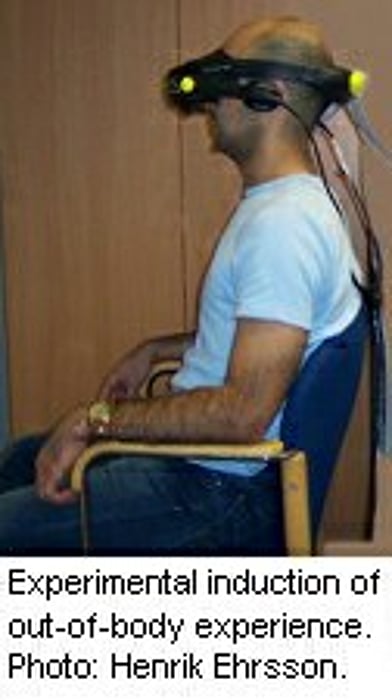 THURSDAY, Aug. 23 (HealthDay News) -- European researchers have induced healthy people to have an "out-of-body" experience by visually tricking them into believing that their body is somewhere else, according to two reports published in the Aug. 24 issue of Science.
H. Henrik Ehrsson, M.D., Ph.D., of the Karolinska Institute in Stockholm, Sweden, studied 12 participants who wore goggles hooked up to video cameras to make them feel that they were looking at their body from behind. He then touched their real and virtual chests and recorded their responses.
Ehrsson found that the participants reported sitting behind their physical bodies, which was confirmed objectively by skin-conductance responses after the virtual chest was "hurt" by hitting it with a hammer.
In a separate experiment, Olaf Blanke, M.D., Ph.D., of the Ecole Polytechnique Federale de Lausanne in Switzerland, and colleagues found that subjects experienced a virtual body as if it was their own. They perceived themselves to be at a point between their own body and the virtual one.
"Humans normally experience the conscious self as localized within their bodily borders," Blanke and colleagues write. "Our results indicate that spatial unity and bodily self-consciousness can be studied experimentally and are based on multisensory and cognitive processing of bodily information."
Abstract - Ehrsson
Full Text (subscription or payment may be required)
Abstract - Blanke
Full Text (subscription or payment may be required)
Physician's Briefing