December 31, 2014
Serotonin1A Binding Linked to Suicide Attempt Lethality
Serotonin1A binding potential in raphe nuclei linked to lethality rating for suicide attempters with MDD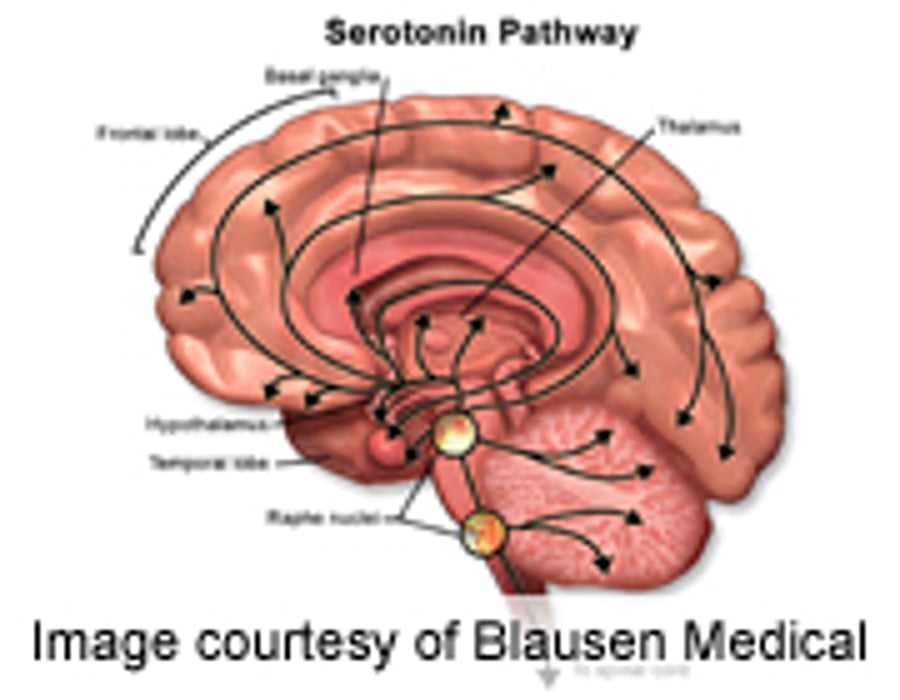 WEDNESDAY, Dec. 31, 2014 (HealthDay News) -- For suicide attempters with major depressive disorder (MDD), serotonin1A binding potential in the raphe nuclei is correlated with lethality rating and lethal intent factor, according to a study published online Dec. 30 in JAMA Psychiatry.
Gregory M. Sullivan, M.D., from the New York State Psychiatric Institute in New York City, and colleagues conducted a cross-sectional positron emission tomography study to compare serotonin1A binding in individuals with MDD who did not attempt suicide (62 nonattempters) with those who did attempt suicide (29 attempters). Attempters were further classified according to lower and higher levels of lethality (16 and 13, respectively).
The researchers observed no difference in serotonin1A binding potential in the prefrontal cortex regions or raphe nuclei between attempters and nonattempters with MDD (P = 0.87 and 0.59, respectively). In higher lethality versus lower lethality attempters, raphe nuclei serotonin1A was 45.1 percent greater, whereas there was no difference in the prefrontal cortex regions. Based on the most recent suicide attempt, in the raphe nuclei of suicide attempters, serotonin1A binding potential correlated positively with lethality rating and the subjective lethal intent factor (both P = 0.003). There was a positive correlation noted between suicide ideation and serotonin1A in the prefrontal cortex regions and raphe nuclei.
"These studies indicate key pathologic differences in serotonin system functioning in suicide attempters and particularly those at risk for more lethal and serious forms of suicidal behaviors," the authors write.
Several authors disclosed financial ties to the pharmaceutical and medical device industries.
Abstract
Full Text (subscription or payment may be required)
Physician's Briefing