September 25, 2017
Gun Violence in Movies a Trigger for Teens?
Parents need to keep weapons locked up, limit exposure to media violence, experts say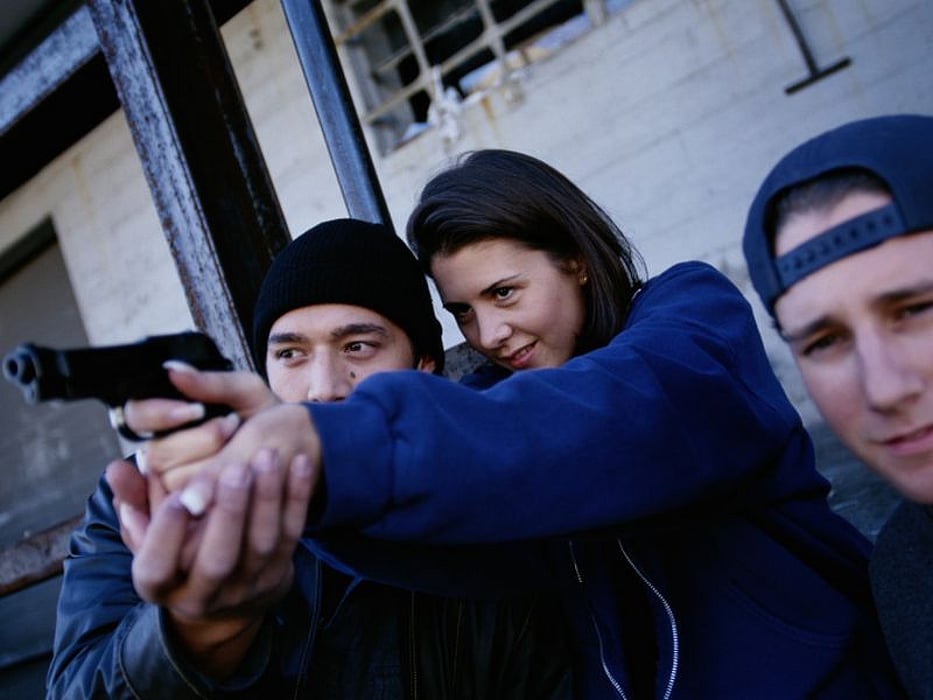 MONDAY, Sept. 25, 2017 (HealthDay News) -- Kids who see gun violence in movies are more likely to play with and fire a gun if they have access to one, a new study finds.
"We know from past research that kids who see movie characters smoke cigarettes are more likely to smoke them themselves, and kids who see movie characters drink alcohol are more likely to drink alcohol themselves," said lead researcher Brad Bushman.
Yet, "we know little about what happens when kids see movie characters with guns," said Bushman, a professor of communication and psychology at Ohio State University.
Gun violence has more than doubled in PG-rated movies since the rating was introduced in 1985, Bushman said.
In this study, kids who saw a film clip with characters using guns held a test gun longer and were more likely to pull the trigger than kids who saw the same movie without the guns, Bushman said.
During the test, "One kid pointed the gun at his friend's temple and pulled the trigger," he said. "Another kid aimed the gun out of the window at passersby in the street and was pulling the trigger."
The children had no way of knowing the gun had been altered and wasn't loaded, Bushman said.
The consequences of kids having access to guns is alarming, he said.
Every day in the United States, 40 children are shot, Bushman said. Nearly 2 million children live in a home with a gun. In 60 percent of those homes, parents don't lock up their guns, he said.
For the study, Bushman and his colleague Kelly Dillon, of Wittenberg University in Springfield, Ohio, had 104 children, ages 8 to 12, look at movie clips with and without scenes of guns.
The children were shown the film clips in pairs, including siblings or cousins, stepsiblings or friends.
Each pair was randomly assigned to see a 20-minute edited version of the PG-rated films "The Rocketeer" or "National Treasure" that had either gun scenes or those scenes edited out.
After the movie, children were taken to a room that had a cabinet full of toys. They were told they could play with any of the toys and games.
One drawer had a real .38-caliber handgun, which had been altered so it couldn't fire. The gun's hammer and trigger, however, still functioned.
Children had 20 minutes to play in the room together with the door closed.
Of the 52 pairs of children, 83 percent found the gun. Only 27 percent gave it to a research assistant or told them about it. In 42 percent of the pairs, one or both kids handled the gun, the researchers found.
The odds of a kid who saw the movie with guns pulling the trigger on the gun were 22 times higher than for a child who saw the film clip without guns.
In addition, kids who saw the film with guns held the gun longer, about 53 seconds, compared with about 11 seconds among kids who watched the movie without guns, Bushman said.
Children who saw the movie containing guns played more aggressively, the researchers reported.
The report was published online Sept. 25 in the journal JAMA Pediatrics.
Dr. Dimitri Christakis is a professor of pediatrics at the University of Washington. "We have two phenomena in this country that co-occur with considerable frequency: gun ownership and violent media," he said.
"This study shows that together, they pose a serious risk to children," said Christakis, who co-wrote an accompanying journal editorial.
The good news is that we have a proven, safe, effective strategy that significantly reduces the risk of gun injury: "That is the safe storage of firearms," Christakis said. "This is not about gun control -- it's about responsible gun ownership."
Bushman believes the lesson from this study is, "Parents should try to reduce their children's exposure to characters with guns in movies, video games and TV."
And people who have guns in the house should lock them up and make sure they're unloaded, as the American Academy of Pediatrics recommends, he added.
Dr. Brandon Korman is chief of neuropsychology at Nicklaus Children's Hospital in Miami. Commenting on the study, he noted that some of the kids reported the presence of the gun, and some kids wouldn't touch it. That's a result of their upbringing, he said.
"How you raise your kids is going to have a huge impact on how they act toward the things they see and experience," Korman said.
More information
For more information on children and guns, visit the Brady Center to Prevent Gun Violence.
SOURCES: Brad Bushman, Ph.D., professor, communication and psychology, The Ohio State University, Columbus; Dimitri Christakis, M.D., M.P.H., professor, pediatrics, University of Washington, Center for Child Health, Behavior and Development, Seattle Children's Research Institute; Brandon Korman, M.D., chief, neuropsychology, Nicklaus Children's Hospital, Miami; Sept. 25, 2017, JAMA Pediatrics, online
Consumer News