November 2, 2016
Una vacuna común es segura para la madre y el feto
El hallazgo debería tranquilizar a las mujeres que reciben la vacuna Tdap para ayudar a proteger al bebé contra la tos ferina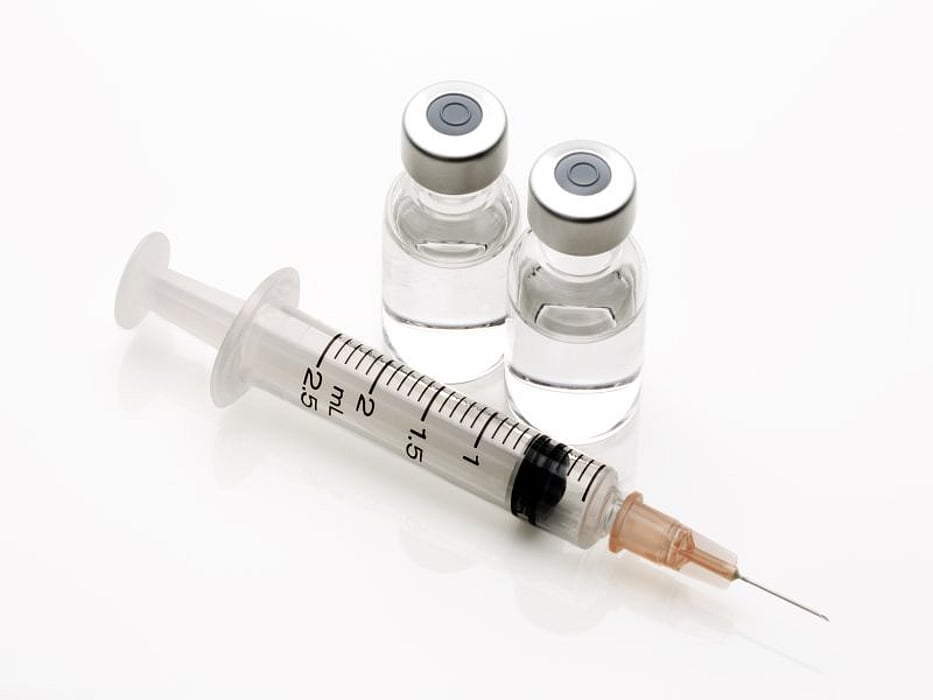 MARTES, 1 de noviembre de 2016 (HealthDay News) -- La vacuna Tdap (contra el tétanos, la difteria y la pertussis o tos ferina) es segura para las mujeres embarazadas que esperan trasmitir su inmunidad a sus hijos recién nacidos, muestra un estudio reciente.
La vacuna no parece provocar defectos congénitos o cualquier otro problema importante de salud para el feto en desarrollo, según una revisión de más de 324,000 nacimientos vivos entre 2007 y 2013.
"Básicamente hemos mostrado que no hay una asociación entre recibir la vacuna Tdap durante el embarazo y estos defectos congénitos [de nacimiento], incluyendo la microcefalia", dijo la investigadora principal, la Dra. Malini DeSilva, investigadora clínica del Instituto HealthPartners de Minneapolis.
El estudio es parte de los esfuerzos continuos para monitorizar la seguridad de las vacunas, comentó DeSilva. Su centro forma parte de Vaccine Safety Datalink, un proyecto de colaboración dirigido por los Centros para el Control y la Prevención de Enfermedades (CDC) de EE. UU. que incluye a las organizaciones de atención de la salud en todo el país.
La vacuna Tdap se ha recomendado para las mujeres embarazadas no vacunadas desde 2010 en California, y desde 2011 en todo Estados Unidos, indicaron los investigadores en la información de respaldo.
Los bebés no pueden recibir la vacuna que protege contra estas enfermedades hasta que tienen 2 meses de edad, señaló DeSilva. Hasta que la reciben, tienen un riesgo alto de contraer la tos ferina (pertussis).
"Entre el momento de que nacen y la visita de los 2 meses, realmente no tienen ningún anticuerpo protector aparte del que haya pasado a través de la placenta", dijo DeSilva. "Se han realizado otros estudios que muestran que hay una probabilidad más alta de trasmitir estos anticuerpos cuando la madre recibe esta vacuna".
Para su revisión, los investigadores incluyeron los datos de los nacimientos vivos en siete lugares de Vaccine Safety Datalink, incluyendo el norte de California, el sur de California, Colorado, Minnesota, Oregón, Washington y Wisconsin.
Los investigadores analizaron los nacimientos en estas áreas cuando la vacuna Tdap se empezó a recomendar para las mujeres embarazadas, y compararon los resultados con lo que se producían antes de la recomendación.
Los investigadores descubrieron que la vacuna Tdap aplicada a las madres no estuvo asociada significativamente con un aumento del riesgo de cualquier defecto genético importante en las vacunaciones administradas a menos de 14 semanas de la gestación, entre las 27 y las 36 semanas de gestación, o durante cualquier semana del embarazo.
El Dr. Amesh Adalja, asociado principal del Centro UPMC para la Seguridad de la Salud de la Universidad de Pittsburgh, dijo que "este estudio ilustra la seguridad de la vacuna Tdap administrada a la madre y la ausencia de una asociación con cualquier defecto congénito". Adalja no participó en el nuevo informe.
"La vacunación de las mujeres embarazadas con esta vacuna es un aspecto importante de la protección de los neonatos contra la pertussis, una enfermedad que puede ser mortal", añadió Adalja. "Este estudio debería tranquilizar a los médicos y a las pacientes y esperamos que aumente las tasas de vacunación durante el embarazo".
El estudio apareció el 1 de noviembre en la revista Journal of the American Medical Association.
Más información
Para más información sobre la vacuna Tdap, visite los Centros para el Control y la Prevención de Enfermedades de EE. UU.
Artículo por HealthDay, traducido por HolaDoctor.com
© Derechos de autor 2016, HealthDay

FUENTES: Malini DeSilva, M.D., M.P.H., clinical investigator, HealthPartners Institute, Minneapolis; Amesh Adalja, M.D., senior associate, University of Pittsburgh's UPMC Center for Health Security; Nov. 1, 2016, Journal of the American Medical Association
Consumer News in Spanish