December 16, 2014
Greater Emphysema-Like Lung on CT Linked to Mortality
Findings among patients without airflow obstruction or chronic obstructive pulmonary disease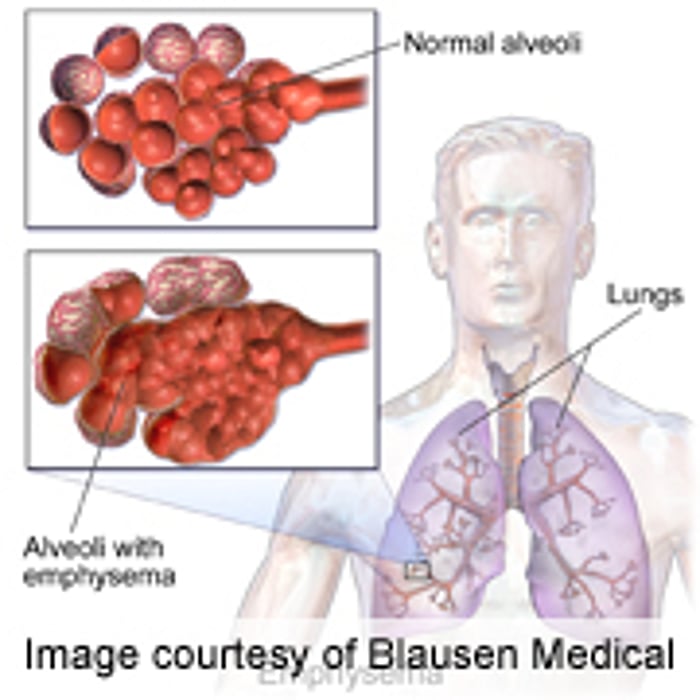 TUESDAY, Dec. 16, 2014 (HealthDay News) -- For individuals without airflow obstruction or chronic obstructive pulmonary disease (COPD), greater emphysema-like lung on computed tomography (CT) is associated with all-cause mortality, according to a study published in the Dec. 16 issue of the Annals of Internal Medicine.
Elizabeth C. Oelsner, M.D., M.P.H., from Columbia University in New York City, and colleagues conducted a prospective cohort study involving 2,965 participants, aged 45 to 84 years, without airflow obstruction on spirometry. The authors examined whether greater emphysema-like lung on CT is associated with all-cause mortality.
The researchers noted 186 deaths over a median of 6.2 years. After adjustment for potential confounders, there was an independent association between greater emphysema-like lung and increased mortality (adjusted hazard ratio per one-half interquartile range, 1.14; P = 0.004). A linear correlation between emphysema-like lung and mortality was supported in generalized additive models, with no indication of a threshold. The magnitude of the correlation was greatest among smokers, although there was no indication of effect modification by smoking status.
"Recognition of the independent prognostic significance of emphysema on CT among patients without COPD on spirometry is warranted," the authors write.
Physician's Briefing