August 28, 2017
Cómo combatir las alergias otoñales
Tome los medicamentos antes de que los síntomas aparezcan, reduzca la exposición al moho y evite el polen, aconseja un experto en alergias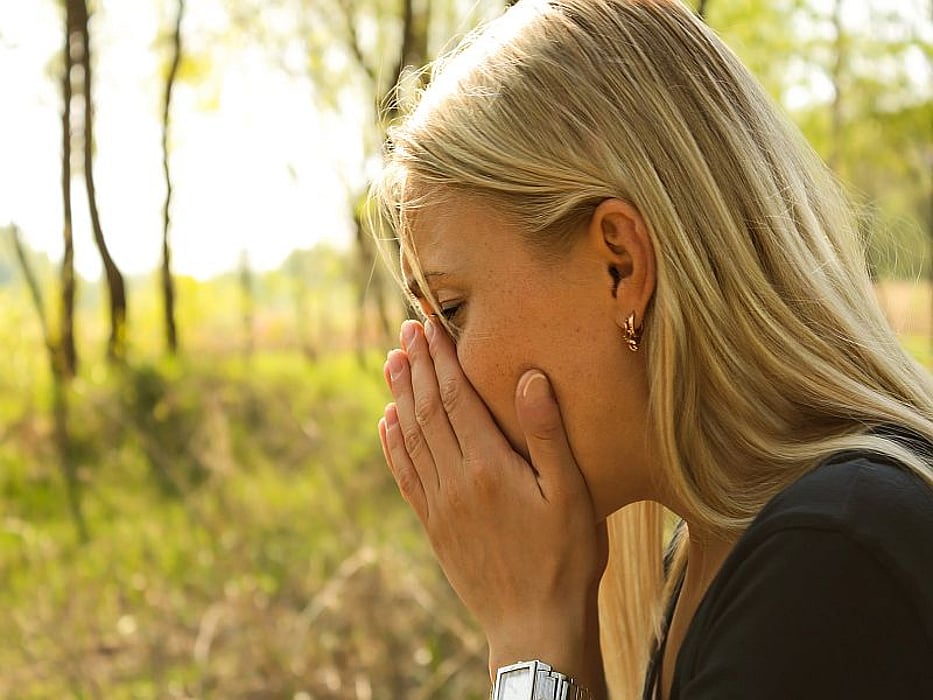 DOMINGO, 27 de agosto de 2017 (HealthDay News) -- Las personas que sufren de alergias podrían empezar a estornudar y a presentar una respiración sibilante en otoño, pero hay cosas que pueden hacer para aliviar sus problemas estacionales.
"Si parece que sus síntomas de alergia aparecen cada vez antes cada año que pasa, probablemente usted no se equivoque", dijo el Dr. Stephen Tilles, presidente del Colegio Americano de Alergias, Asma e Inmunología (American College of Allergy, Asthma and Immunology, ACAAI).
"El cambio climático podría estar provocando que la temporada de alergia de otoño aparezca antes y sea más larga", añadió en un comunicado de prensa de la ACAAI. "Además, los días con viento pueden conllevar que los síntomas de alergia aumenten, porque el viento puede transportar el polen de la ambrosía, las hierbas y los árboles, hasta 100 millas (160 km) desde su lugar de origen".
Tilles dio los siguientes consejos para ayudar a la gente con alergias estacionales a evitar la aparición de los síntomas:
Tenga un plan por adelantado. Los llamados alérgenos "de otoño" en realidad aparecen a mediados de agosto. Si usted depende de los medicamentos para la alergia, empiece a tomarlos aproximadamente dos semanas antes de que aparezcan los síntomas. También es importante no dejar de tomar los medicamentos para la alergia hasta que los conteos de polen se hayan reducido durante unas dos semanas.
Minimice el moho. El moho es casi imposible de eliminar. Tiende a crecer donde haya agua, en particular en los sótanos, los baños y cerca de los lavamanos. El moho también aparece en exteriores, incluso en los montones de hojas secas. El mejor modo de limitar el crecimiento de moho es minimizar la humedad. Use ventiladores en el baño y limpie el agua estancada inmediatamente. Limpie el moho de cualquier superficie y asegúrese de que se mantienen limpias y secas. Mantener la humedad de su hogar por debajo del 60 por ciento y limpiar las alcantarillas de forma rutinaria también es una buena idea.
Evite el polen. No se debe llevar a casa ni ambrosía ni otros pólenes que desencadenan los síntomas de alergia. Asegúrese de que quitarse los zapatos cuando entre por la puerta. Si usted ha estado en el exterior trabajando, haciendo ejercicio o jugando, dúchese y cámbiese de ropa para quitar todo el polen que se haya pegado a su pelo o a su cuerpo. Mantenga su casa y las ventanas de su coche cerradas y use el aire acondicionado, en particular cuando los conteos de polen son altos. Si está trabajando en el patio, piense en llevar guantes y mascarilla de filtrado de clasificación 95 del NIOSH. Las personas que tengan alergias graves quizá deberían evitar las actividades en el exterior por completo.
Pida ayuda. Un alergólogo ha sido capacitado para identificar sus alérgenos y darle un plan de tratamiento individualizado para usted. Además de la medicación para la alergia, estos médicos pueden proporcionar la inmunoterapia, o inyecciones para la alergia que se dirigen a los desencadenantes específicos en su caso. Esto puede aliviar dramáticamente sus síntomas.
Más información
La Academia Americana de Alergias, Asma e Inmunología tiene más información sobre cómo aliviar las alergias estacionales.
Artículo por HealthDay, traducido por HolaDoctor.com
© Derechos de autor 2017, HealthDay

FUENTE: American College of Allergy, Asthma and Immunology, news release, Aug. 18, 2017
Consumer News in Spanish