September 27, 2012
Myogenes Identified for Spondyloarthritis Synovitis
Myogene signature independent of disease duration, treatment, and disease subtype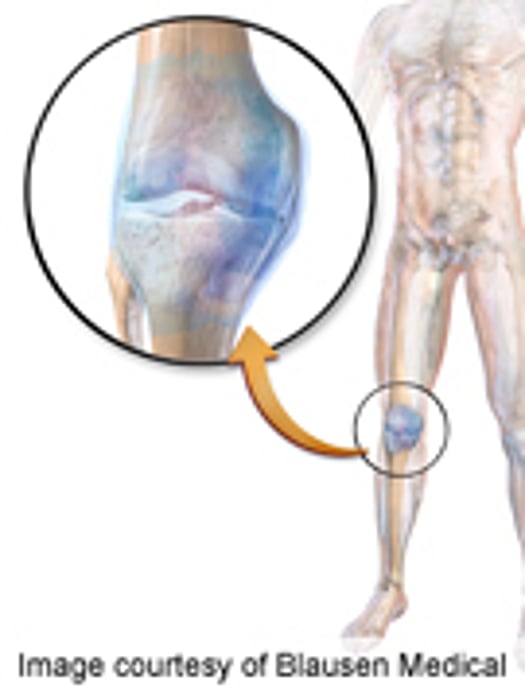 THURSDAY, Sept. 27 (HealthDay News) -- There are disease-specific and inflammation-independent stromal alterations in spondyloarthritis (SpA) synovitis, according to a study published online Sept. 12 in Arthritis & Rheumatism.
Nataliya Yeremenko, Ph.D., from the University of Amsterdam, and colleagues conducted a synovial gene expression analysis. Pan-genomic microarray (with confirmation by quantitative polymerase chain reaction and immunohistochemistry) was used to analyze synovial tissue biopsies from patients with SpA (63), RA (28), and gout (nine). By stimulating fibroblast-like synoviocytes with synovial fluid and analyzing synovial tissue samples at week zero and 12 of treatment with etanercept, the effect of inflammation on gene expression was evaluated.
The researchers found that microarray analysis identified 64 upregulated transcripts in SpA versus RA synovitis, with a robust myogene signature in this gene set. The myogene signature was specific for SpA and was independent of disease duration, treatment, and SpA subtype. Using synovial staining, the myogene expressing cells were identified as vimentin(+), 4-prolyl-hydroxylase-β(+), CD90(+) and CD146(+) mesenchymal cells. These cells were significantly overrepresented in the intimal lining layer and synovial sublining of inflamed SpA synovium.
"These data identify a novel and disease-specific myogene signature in SpA synovitis," Yeremenko and colleagues conclude. "The fact that this stromal alteration appeared not to be downstream of local inflammation warrants further analysis of its functional role in the disease pathogenesis."
Abstract
Full Text (subscription or payment may be required)
Physician's Briefing