April 21, 2014
Sprifermin May Aid Cartilage Thickness Loss With Arthritis
Benefit seen in lateral femorotibial compartment, but not central medial femorotibial compartment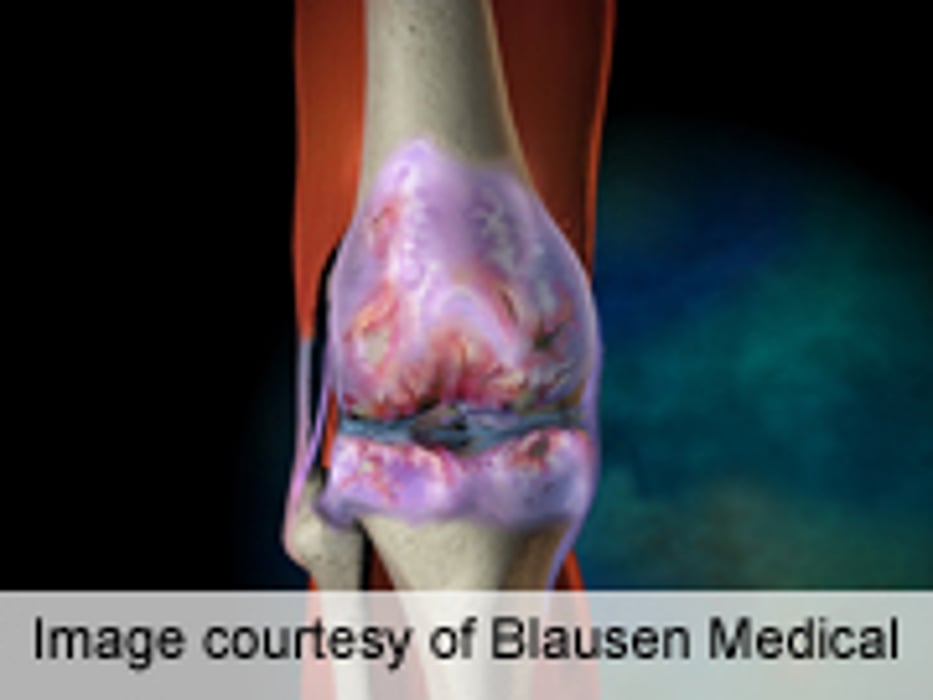 MONDAY, April 21, 2014 (HealthDay News) -- Sprifermin (recombinant human fibroblast growth factor 18) does not significantly reduce central medial femorotibial compartment (cMFTC) cartilage thickness, but does benefit cartilage loss in the lateral femorotibial compartment, according to a proof-of-concept study published online April 16 in Arthritis & Rheumatology.
L. Stefan Lohmander, M.D., Ph.D., from Lund University in Sweden, and colleagues evaluated sprifermin as an intra-articular injection (10, 30, and 100 µg) in patients with symptomatic knee osteoarthritis. Magnetic resonance imaging-determined changes in cMFTC cartilage thickness at six and 12 months were the primary efficacy end points.
The researchers found that based on the 168 patients who completed the whole trial there were no statistically significant dose-response changes in cMFTC cartilage thickness. There were significant dose-dependent reductions in loss of total and lateral femorotibial cartilage thickness and volume associated with sprifermin. Sprifermin was also associated with joint space width narrowing in the lateral femorotibial compartment. All groups showed improvement in pain, though with significantly less improvement at 12 months in patients receiving 100 µg sprifermin, compared to placebo.
"Sprifermin was not associated with any local or systemic safety concerns," the authors write.
The study was sponsored by Merck Serono, the manufacturer of sprifermin; several authors disclosed financial ties to pharmaceutical and biotechnology companies, including Merck Serono.
Abstract
Full Text (subscription or payment may be required)
Physician's Briefing