August 1, 2008
Centenarians Offer Long-Life Secrets
Many 100-year-olds embrace modern technology to stay young, survey finds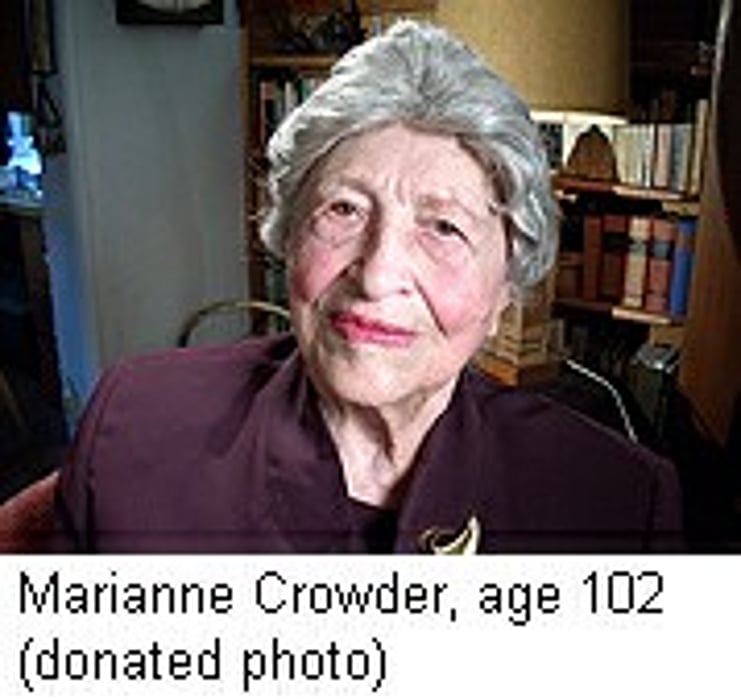 FRIDAY, Aug. 1, 2008 (HealthDay News) -- At 102, Marianne Crowder credits her longevity to a taste for change, a sunny attitude, and supportive family and friends.
"I'm interested in everything," the former dancer and exercise teacher from California said. "Absolutely. All the new things are wonderful. In fact, I have a new phone I'm using right now."
"I'm surprised I've lived this long," the mother of two, grandmother of eight, and great-grandmother of another eight, added. "But I've always been well. Very healthy. I don't go to doctors, because I don't really need to. And people have always been wonderful to me. My two girls are exceptional, and I've had a very happy marriage and a very pleasant place to live. And I have a lot of friends, mostly my daughter's age, of course. That's the bad thing about getting old. Too many losses. But I'm perfectly happy."
Not surprisingly, a new survey reveals that Crowder's recipe for a long and happy life mirrors that of other centenarians.
What's more, poll results indicate that a significant number of centenarians practice what they preach by embracing the 21st century while maintaining 20th-century routines.
In fact, the 2008 "Evercare 100@100 Survey" -- the third incarnation of an annual snapshot of one hundred men and women who've crossed that major hurdle -- found that many among the extreme elderly are actively appropriating the cell phones, e-mail and Internet touchstones of far younger generations to keep abreast of personal affairs, politics and popular culture.
"My biggest surprise was the level of technology that people over 100 were using", said Dr. John Mach, a geriatrician and chairman of Minneapolis-based poll sponsor Evercare, a health insurance provider that focuses on coordinating care for the elderly and frail, those with chronic or advanced-stage illness, and/or the disabled.
"The last time we did this survey, we found that many people over 100 were using an iPod," he added. "And this year, we found that people were using Google. So, this is a recurring theme. And it's because they are using this technology to stay in touch with friends and family."
U.S. Census Bureau data shows there are currently more than 84,000 centenarians in the United States -- a figure that is expected to rise to 580,000 by the 2040.
This year's results were gleaned from a telephone survey conducted last spring of 1,000 randomly selected Americans between the ages of 20 and 83, as well as from separate interviews of 100 men and women who were at least 99 at the time they participated.
Among the centenarians polled, 90 percent said that staying close to family and friends was the most important factor in terms of healthy aging. Nine in 10 said keeping mentally active was critical to a long life, while 88 percent stressed the importance of having a sense of humor.
More than four in five said that maintaining their independence was central to aging well, and nearly two-thirds said that lifestyle choices were the backbone of their healthful longevity -- not genetics.
Technology appeared to be front and center in many centenarian lives. Nearly one in five said they use cell phones; 7 percent use e-mail; 4 percent exchange digital photos by e-mail; 3 percent use an online dating service; and 12 percent say they surf the Web. Two percent said they specifically used the search engine Google to look for someone with whom they had lost contact.
More information
For more on centenarians, visit the Howard Hughes Medical Institute.
SOURCES: John Mach, M.D., geriatrician and chairman, Evercare, Minneapolis; Marianne Crowder, Palo Alto, Calif.
Consumer News