June 19, 2012
High Rates of Untreated Kidney Failure Seen in Elderly
Prevalence of advanced kidney disease among older adults underestimated, researchers say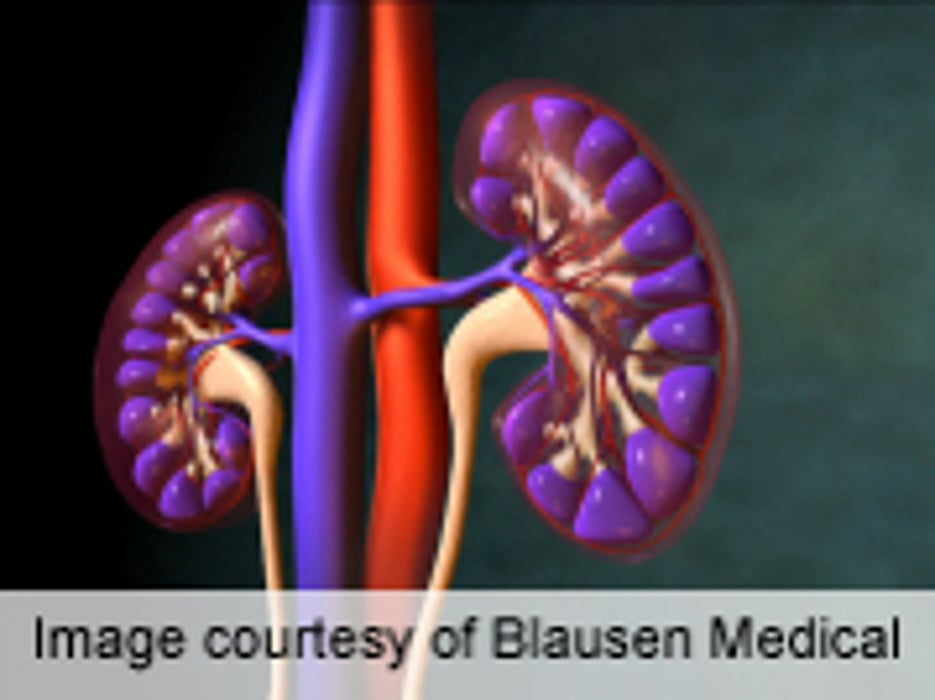 TUESDAY, June 19, 2012 (HealthDay News) -- Untreated kidney failure is more prevalent among older adults than those who are younger, according to Canadian researchers who say advanced kidney disease among the elderly may be seriously underestimated.
In conducting the study, the researchers examined information on nearly 2 million adults in Alberta, Canada who had their flow rate of filtered fluid through their kidney, called eGFR, measured between 2002 and 2008. The patients' eGFR had an initial, or "baseline," reading that did not require treatment (15 mL/min/1.73 m2 or higher).
At a follow-up after about four years, however, 5.4 percent of the study participants had died, 0.18 percent had been treated for kidney failure and 0.17 percent had untreated kidney failure, or had progressed to an eGFR reading that was less than "baseline" without treatment, according to the study published in the June 20 issue of the Journal of the American Medical Association.
The investigators found that adjusted rates of death increased as the patients' aged. They also found rates of treated kidney failure were higher among the youngest age group.
For the patients with the lowest eGFR, adjusted rates of treated kidney failure were more than 10 times higher among those between 18 and 44 years of age than among the patients older than 85, the study authors noted in a journal news release.
Meanwhile, the investigators found adjusted rates of untreated kidney failure were more than five times higher among patients aged 85 years or older than among those aged 18 to 44.
"These findings have important implications for clinical practice and decision making; coupled with the finding that many older adults with advanced chronic kidney disease are not adequately prepared for dialysis, these results suggest a need to prioritize the assessment and recognition of chronic kidney disease progression among older adults," Dr. Brenda Hemmelgarn, of the University of Calgary in Alberta, Canada, and her colleagues said in the news release.
The researchers suggested that doctors should offer treatment for kidney disease to older adults who could benefit from it. They also concluded that there is a need for improvement in the identification of older adults with chronic kidney disease and the development of appropriate treatments.
In addition, more research is needed to better understand the factors that influence older adults' decisions to receive treatment for advanced kidney disease, the study authors said.
More information
The U.S. National Library of Medicine has more about kidney failure.
SOURCE: Journal of the American Medical Association news release, June 14, 2012
Consumer News