June 7, 2012
Many Suffer Leg, Lung Clots While Hospitalized: CDC
Risk of potentially deadly blockages rises with age; prevention efforts urged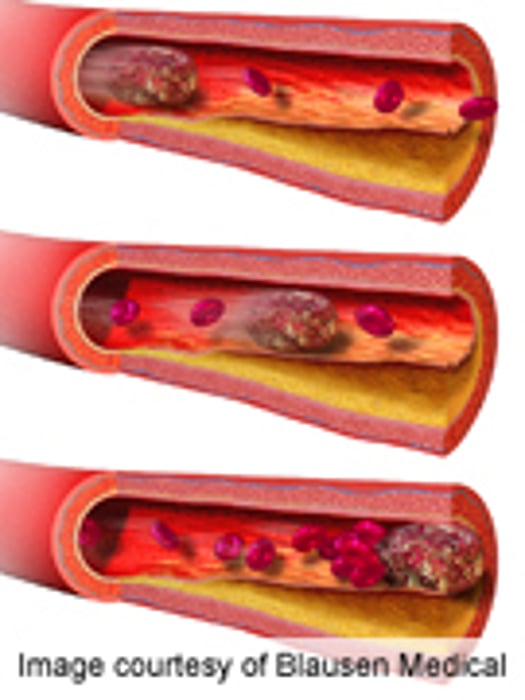 THURSDAY, June 7, 2012 (HealthDay News) -- Hospitalization is a major risk factor for a potentially deadly blood clot and increased public health efforts are needed to reduce this risk, a new federal report says.
Researchers at the U.S. Centers for Disease Control and Prevention looked at the number of cases of venous thromboembolism among hospital patients in the United States from 2007 to 2009. Venous thromboembolism consists of deep vein thrombosis (a blood clot in a deep vein) and pulmonary embolism (the passage of the clot into the lungs).
Most deep vein clots occur in the lower leg or thigh.
The investigators found an annual estimated average of more than 547,000 diagnoses of venous thromboembolism among adult hospital patients aged 18 and older. Of these patients, nearly 349,000 had deep vein thrombosis, more than 277,000 had pulmonary embolism, and over 78,000 had both types of clots.
The older the patient, the greater the risk of dangerous blood clots, the report noted. The average annual number of cases among hospitalized patients aged 18 to 39 was more than 54,000, compared with more than 143,000 for patients aged 40 to 59, and over 350,000 for patients 60 and older.
The average annual number of venous thromboembolism cases was higher among female patients than among male patients -- almost 297,000 versus about 251,000.
On average, nearly 29,000 adult hospital patients with these clots died each year. Of these patients, more than 13,000 had deep vein thrombosis, more than 19,000 had pulmonary embolism, and nearly 4,000 had both.
The findings highlight the need to increase awareness about dangerous blood clots in hospital patients and to develop and implement methods to prevent them, the researchers concluded.
The report, by Dr. Hussain Yusuf and colleagues at the CDC, is published in the June 8 issue of the Morbidity and Mortality Weekly Report.
More information
The U.S. National Heart, Lung, and Blood Institute has more about deep vein thrombosis.
SOURCES: U.S. Centers for Disease Control and Prevention, news release, June 7, 2012; June 8, 2012, Morbidity and Mortality Weekly Report
Consumer News