December 24, 2007
Scientists Marvel at Santa's Stamina
As another Christmas Day approaches, they speculate how he jolly well does it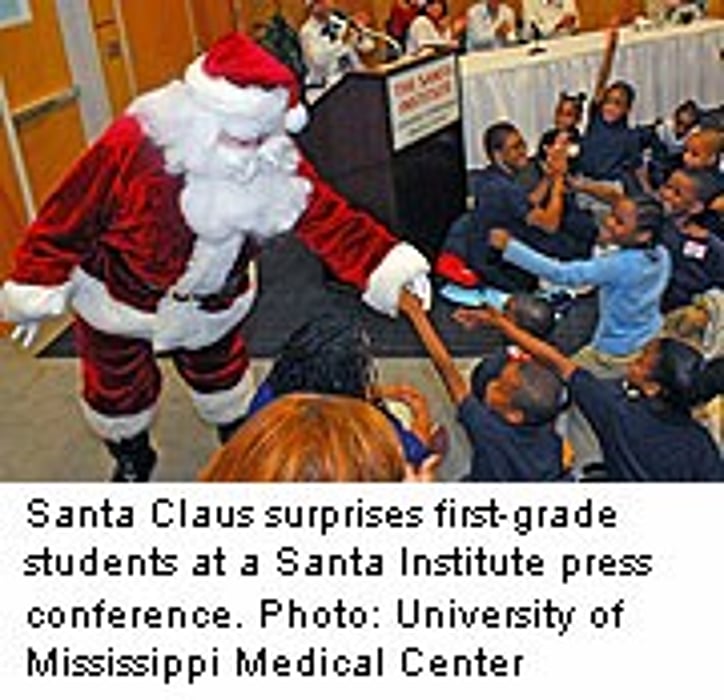 MONDAY, Dec. 24, 2007 (HealthDay News) -- Circling the globe in an airborne sleigh, slipping down millions of chimneys, bulging sacks in tow -- how does Santa Claus do it every year?
Scientists everywhere south of the North Pole have pondered that question for years. And nowhere is it more hotly debated than at the Santa Institute, a special think-tank based at the University of Mississippi Medical Center, in Jackson.
The institute is perhaps most famous for unveiling its "Naughty or Nice" detector back in 2005 -- a silver headset inspired by St. Nick's uncanny ability to separate good kids (and grown-ups) from the not-so-good when doling out presents.
Doctors at the Santa Institute discovered the mechanism after performing Santa Claus Emission Tomography (SCET) on the jolly old man's brain (he cheerfully volunteered when visiting the center).
They discovered that Santa has a special part of his brain that lights up when a child is nice but another area that activates when naughtiness comes near. Based on the Santa discovery, the institute's scientists developed a silver, wireless headset to help ordinary humans figure out who deserves what under the tree.
So, how is the machine -- now upgraded to Naughty or Nice 3.0 -- doing two Christmases later?
So far, it "seems to be working OK," said developer Dr. David J. Dzielak, UMC associate vice chancellor for strategic research alliances and head Santa scientist.
But, he said, the device still has some bugs.
"One thing that is becoming clear is that the detector seems to function better when testing children than when testing adults. When adults get tested, it seems to get stuck in the 'naughty' mode," Dzielak said.
In fact, all of the young students who met with Santa earlier this month at UMC tested "nice," with only their teacher registering as "naughty."
"Obviously, much more research and technical innovation is going to be necessary" before any machine approximates Santa's level of discernment, Dzielak said.
Elsewhere at the institute, Dr. Rebecca Waterer, an assistant professor of medicine at UMC, is especially interested in Santa's snacking preferences.
"Our experiments involve studying before-and-after photographs of snacks left for Santa," she said. The result? Burning up calories during his busy night globetrotting, Santa eats almost everything kids leave out for him, except for fruitcake, Waterer said. Noticing the jolly gent's generous tummy, she advised that children skip the fruitcake (too fattening) and lean toward healthier fare so that Santa can shimmy down chimneys for years to come.
He'll certainly need all the nourishment he can get. According to experts at the North American Aerospace Defense Command (NORAD) -- which tracks Santa's Christmas Eve journey via radar, jet fighters and satellites each year -- Mr. Claus is set to deliver presents to all of the world's 6,634,570,959 people in just one night.
Beginning at 4 a.m. Eastern Standard Time on Christmas Eve, NORAD is again helping kids everywhere track Santa's global progress via their Web site, http://www.noradsanta.org/.
Other experts outside NORAD and the Santa Institute have their own theories on how Santa gets the job done year in, year out.
In a statement, a panel of physician-experts at the Pennsylvania Medical Society theorized that, given his stamina and longevity, Santa probably goes for regular checkups, gets a flu shot during the hectic period before Christmas, and takes very good care of his skin -- important when one considers the cold and irritation his face must suffer in that open sleigh.
"I do get worried about his rosy cheeks," said Dr Victor Marks, a society member and president of the Pennsylvania Academy of Dermatology and Dermatologic Surgery. "I wonder if that's windburn or sunburn from daylight reflecting off the snow. Mrs. Claus now applies sunscreen to his cheeks each morning," Marks said in a statement.
Another society expert, orthopedic surgeon Dr. Daniel Piaso, believes Santa works out regularly in the warmer, off-season months at the North Pole. How else to explain how the gray-haired guy skips over rooftops and pops in and out of his sleigh so quickly?
"Not a lot of my patients are sliding up and down chimneys, but Santa must be exceptionally nimble to do so," Piaso said.
But what keeps Santa going year after year? It could be as simple as the joy he gets in giving, the experts said.
"He loves what he does," the physicians said. According to the experts, study after study finds that "job/life satisfaction and a positive outlook can contribute significantly to an overall sense of well-being."
Ho, ho, ho to that.
More information
Have more questions about Santa? Ask the experts at the Santa Institute.
SOURCES: David J. Dzielak, associate vice chancellor, strategic research alliances, and Rebecca Waterer, M.D., assistant professor, medicine; both of the University of Mississippi Medival Center's Santa Institute, Jackson; Nov. 20, 2007, news release, Pennsylvania Medical Society
Consumer News