March 31, 2011
When Pets Outlive Owners, 'Retirement Homes' Offer Refuge
Vet schools now offer lifelong care or new homes for animals left behind, for a price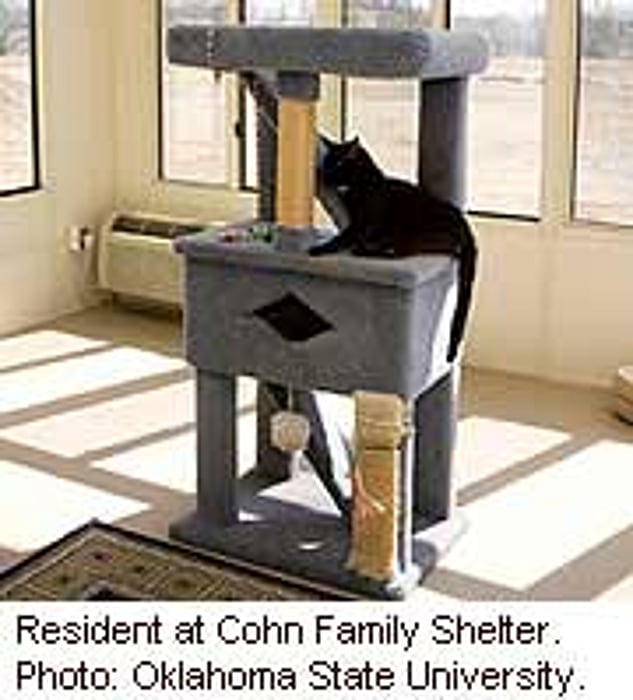 THURSDAY, March 31, 2011 (HealthDay News) -- Betty Kyle knew that after she passed away her daughters did not want to care for her menagerie of four Italian greyhounds, two donkeys, a goat and horse.
So the 66-year-old ponied up more than $100,000 for her animals to live out their final days at the Stevenson Companion Animal Life-Care Center, a pet retirement home run by Texas A&M University in College Station.
"I was just impressed with Stevenson after having visited a couple of other facilities that were available to me," the Santa Fe, N.M., resident explained.
Acknowledging the strong human-animal bond, some veterinary schools now help people plan for their pet's future. Programs either provide animals with lifelong care or find them new homes after their owners die or are no longer able to care for them.
Most people probably don't think their pets will outlive them but accidents, illnesses and even old age can sometimes suddenly and unexpectedly take a pet owner's life. Animal welfare experts estimate that, each year, tens of thousands of pets are killed in overcrowded shelters and veterinary hospitals because their owners didn't make arrangements for their continued care.
At the University of California Davis School of Veterinary Medicine, the Tender Loving Care for Pets Program places animals in pre-screened homes then keeps tabs on them to make sure they're cared for properly.
Since 1996, Kansas State University has offered a similar service called the Perpetual Pet Care Program. "Our main goal is to provide peace of mind for the owners," said Chris Gruber, director of development for the college of veterinary medicine. "We try and replicate the exact environment the animal came from originally."
Today, more than 35 families with 110 animals have signed up, he said. The minimum enrollment amount for a small companion animal (cat, dog or bird) is $25,000, which is given to the school after an owner's death through an estate, trust or life insurance policy.
If any funds remain after the animal's death, owners can choose to support the next generation of veterinarians by applying it toward scholarships, for instance, or equipment for the teaching hospital.
At Texas A & M's Animal Life-Care Center, the brick building on campus where 16 dogs and 20 cats currently reside looks like a sprawling mansion surrounded by a sea of green grass.
Long-time director and veterinarian Dr. Henry Presnal said the 8,300-square-foot facility, which will expand this summer because of demand, is designed to give personalized care in a home-like setting.
"We don't do anything to the animals that live here that you wouldn't do for one at home," he said.
Paid staff and students pursuing veterinary degrees make sure the orphaned cats and dogs receive everything needed to stay happy and healthy: daily exercise, regular medical care, grooming and specialized diets if needed.
A fully equipped barn for horses and other large animals is located on a quiet, shady part of the property.
Currently 135 owners from around the country have enrolled 350 companion animals in the privately funded program, said Presnal.
To place an animal, owners must establish an endowment through a will or trust, or pay a fee at the time of enrollment.
The amount is based on the pet owner's age. Someone in their 30s, for example, with a dog or cat must leave $100,000 to the university or pay $10,000 up front. Doing so insures a spot for the owner's current animal or one owned at the time of death.
Oklahoma State University's Center for Veterinary Health Sciences also runs a pet retirement home, the Cohn Family Shelter for small animals.
Planning for a beloved pet's future is something more owners are beginning to think about, especially among those who don't have family or friends willing to care for their pet after they're gone.
"The human-animal bond has changed greatly in the last ten years," notes Gruber of Kansas State University. "Animals are much more an important part of our lives and it's growing every day."
More information
See what your pet will have to look forward to at the Stevenson Companion Animal Life-Care Center.
SOURCES: Betty Kyle, Santa Fe, N.M.; Chris Gruber, director, development, College of Veterinary Medicine, Kansas State University; Henry Presnal, DVM, director, Stevenson Animal Life-Care Center, Texas A & M University, College Station
Consumer News