September 29, 2010
Infant Sleep Positioners Dangerous, U.S. Health Officials Warn
12 babies in the last 13 years suffocated in them, FDA and CPSC say in public health advisory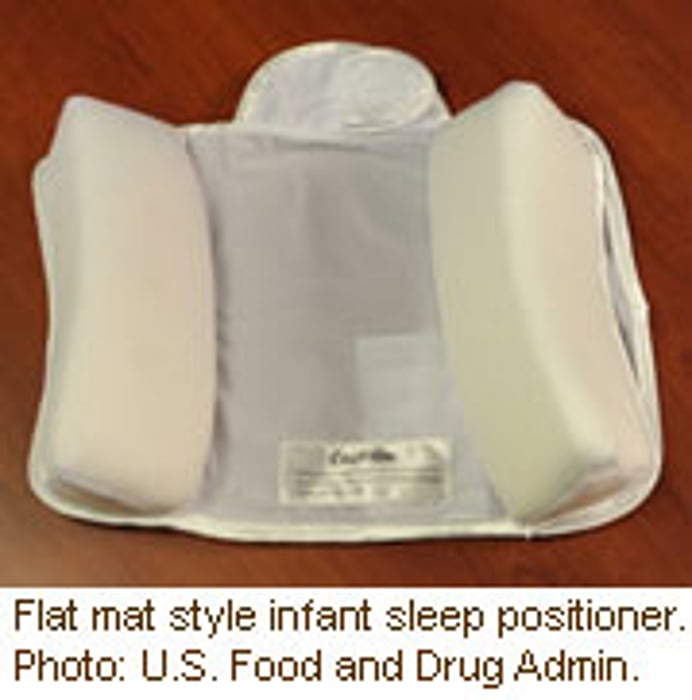 WEDNESDAY, Sept. 29, 2010 (HealthDay News) -- Driven by reports of infant deaths, U.S. health officials warned Wednesday that infant sleep positioners are dangerous and should not be used.
The public health advisory, issued jointly by the U.S. Food and Drug Administration (FDA) and the U.S. Consumer Product Safety Commission (CPSC), follows government reports that at least 12 babies under 4 months old suffocated in the last 13 years after being placed in a crib outfitted with a sleep positioner.
All 12 died after rolling from a side to a stomach position or becoming trapped between a sleep positioner and the frame of a crib or bassinet. The government also has many more reports of babies found in potentially dangerous positions after being placed in one of these products.
"Based on the information that CPSC shared with FDA, both agencies agree and are working together to stop the use of these products and get them off the market," the FDA's principal deputy commissioner, Dr. Joshua Sharfstein, said during an afternoon teleconference with reporters.
Infant sleep positioners are typically flat mats with side bolsters or wedge mats with side bolsters and have been commonly used to help keep babies on their backs to reduce the risk of sudden infant death syndrome (SIDS), even though the FDA has never approved that use.
At the moment, manufacturers of the 18 sleep positioner products that have been cleared for sale by the FDA are not legally obligated to stop marketing their devices, Sharfstein said. And the warning provides no replacement or refund options for consumers who have purchased the products, he added.
That said, Sharfstein noted that the FDA began contacting makers of all known sleep positioners a month ago in an effort to get them to take the products off the market, and said the agency may take steps to force the issue down the road.
"We will use our authority in this case and in other cases to protect children," he said. Five manufacturers have already indicated they will stop selling their sleep positioners, he added, and "we anticipate that the device manufacturers will stop marketing these devices."
Until then, CPSC chair Inez Tenebaum told reporters, the warning "is a way for us to communicate directly and quickly with consumers."
Tenebaum noted that Wednesday's action is the latest step taken as part of CPSC's "Safe Sleep" initiative, a national campaign designed to educate parents about federal safety standards for cribs and potential bedding hazards.
Sharfstein explained that infant sleep positioners first came to the U.S. market in the 1980s, as a sleep aid that promised to help reduce infant gastroesophageal reflux disease (GERD), as well as the risk for "plagiocephaly."
Also known as "flat head syndrome," plagiocephaly occurs when a baby develops a flat spot or an asymmetrical head shape in response to external pressure. The immobility promised by a sleep positioner was advertised as a way to prevent the type of infant movement that could cause such a complication.
But many parents have turned to the device because of suggestions that by keeping infants on their backs sleep positioners actually reduced the risk of SIDS.
Sharfstein stressed that "the FDA has never approved an infant sleeper to prevent SIDS."
Dr. Rachel Moon, chair of the Sudden Infant Death Syndrome Task Force with the American Academy of Pediatrics, told reporters that, as a pediatrician and a parent, she understands the impetus to place an infant in a positioner if there is some inkling that it might prevent SIDS.
But she was adamant that there was "no scientific evidence" to support such a claim, while mounting indications strongly suggest that positioner devices actually threaten babies with "at least a risk of injury and even a risk of death."
"To me," she said, "they do not pass the test of 'first do no harm.'"
Dr. Judith S. Palfrey, president of the American Academy of Pediatrics, issued this statement after the FDA action: "The AAP believes sleep positioners represent a risk to sleeping babies. The AAP also recommends that parents never use pillows, stuffed animals, heavy blankets or other soft or puffy items in babies' cribs. Soft bedding can end up over their face and block their breathing. Babies should have their own crib, with a firm mattress and a fitted sheet."
More information
For more on the infant sleep positioner warning, visit the U.S. Food and Drug Administration.
SOURCES: Sept. 29, 2010 teleconference with Joshua Sharfstein, M.D., principal deputy commissioner, U.S. Food and Drug Administration, Washington, D.C.; Rachel Moon, M.D., chair, Sudden Infant Death Syndrome Task Force, American Academy of Pediatrics; Inez Tenenbaum, chairman, Consumer Product Safety Commission, Washington, D.C.; Sept. 29, 2010, American Academy of Pediatrics news release
Consumer News