May 28, 2015
Murder Most Foul, 430,000 Years Ago
Wounds in ancient skull offer clues for evolutionary detectives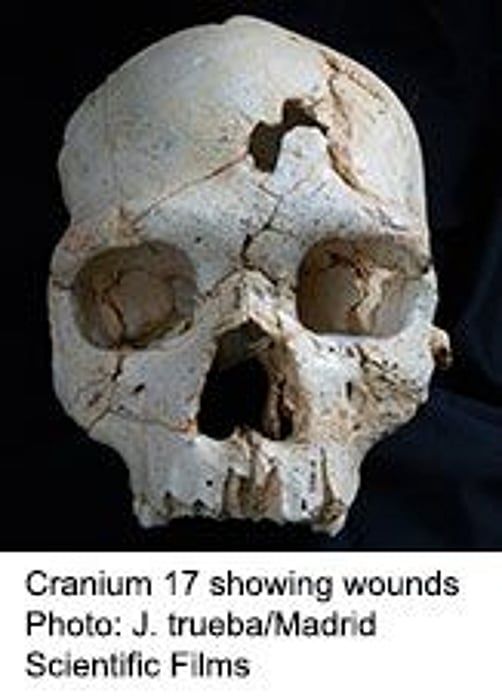 THURSDAY, May 28, 2015 (HealthDay News) -- A 430,000-year-old skull discovered in Spain has deadly wounds that suggest one of the first known cases of murder in human history.
The skull was discovered at an archeological site called Sima de los Huesos in northern Spain. The site -- deep within an underground cave system -- contains the skeletal remains of at least 28 people from a period of time known as the Middle Pleistocene.
The only access to the site is down a 42-foot vertical shaft.
Discovered among the remains was a nearly complete skull with two penetrating wounds above the left eye. The wounds were likely produced by two separate impacts by the same object, according to Nohemi Sala, an evolutionary researcher from Complutense University of Madrid, and colleagues.
It's unlikely that the wounds were caused by an accidental fall down the vertical shaft, the researchers said. Instead, the type of wounds, their location, and the fact they were caused by two separate blows led the investigators to believe this was a case of murder.
The researchers also believe that after being killed, the victim was carried to and dropped down the vertical shaft. This suggests that humans also deposited the other bodies in Sima de los Huesos, which supports the belief that it is evidence of early funeral practices.
The study was published May 27 in the journal PLOS ONE.
More information
The Smithsonian National Museum of Natural History outlines human evolution.
SOURCE: PLOS ONE, news release, May 27, 2015
Consumer News