September 9, 2020
¿Tiene dificultades con la PPCVR para la apnea del sueño? Una cirugía podría ayudar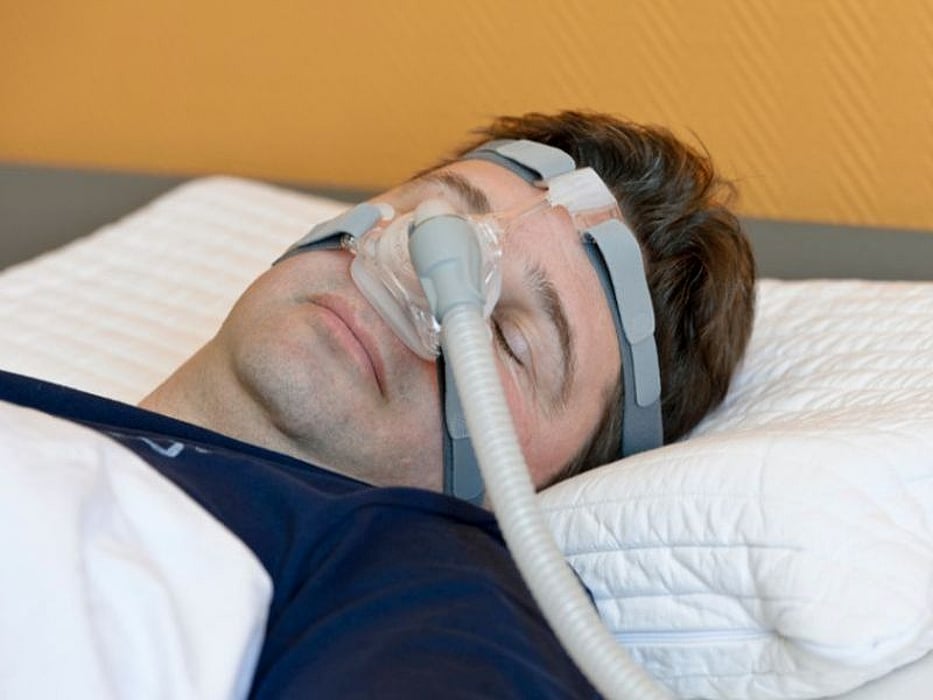 MARTES, 8 de septiembre de 2020 (HealthDay News) -- La presión positiva continua de las vías respiratorias (PPCVR) quizá sea el tratamiento preferido para la apnea del sueño, pero muchas personas tiene dificultades para usarla cada noche. Una investigación encuentra que una combinación de técnicas quirúrgicas podría brindar alivio a las personas que no pueden tolerar a la PPCVR.
El tratamiento "multinivel" incluye extirpar las amígdalas, reposicionar el paladar (el techo de la boca) y usar radiofrecuencia para reducir ligeramente el tamaño de la lengua. En combinación, esos procedimientos abren a las vías respiratorias y reducen la obstrucción respiratoria, señalaron los investigadores.
El estudio encontró que la técnica quirúrgica multinivel redujo el número de veces que las personas dejaban de respirar (eventos de apnea) durante el sueño, y mejoró la somnolencia diurna. Las personas también reportaron una mejor calidad de vida tras el tratamiento.
"La apnea obstructiva del sueño es común, y muchas personas no pueden usar los tratamientos principales, como las máscaras de PPCVR. La cirugía es una opción válida cuando hay un cirujano experto implicado, y puede mejorar los resultados", aseguró el autor principal del estudio, el Dr. Stuart MacKay, profesor clínico honorario de otorrinolaringología, cirugía de cabeza y cuello de la Universidad de Wollongong, en Australia.
Los investigadores apuntaron que, en todo el mundo, casi mil millones de personas sufren de apnea del sueño. Las vías respiratorias se bloquean durante el sueño, y como resultado las personas dejan de respirar durante unos periodos breves, múltiples veces a lo largo de la noche. Las personas con apnea del sueño tienen un riesgo más alto de somnolencia, accidentes en vehículos motorizados, y enfermedad cardiaca y accidente cerebrovascular (ACV).
La PPCVR funciona bien para mantener las vías respiratorias abiertas durante el sueño, pero puede resultar difícil acostumbrarse al tratamiento (que incluye a una máscara y a un tubo largo). Los autores del estudio, dijeron que apenas la mitad de las personas con apnea del sueño prueban la PPCVR.
En el nuevo estudio, los investigadores reclutaron a 102 personas con sobrepeso u obesas con apnea del sueño en seis centros clínicos de Australia, que tenían en promedio unos 40 y tantos años. La meta era ver si la cirugía podía ayudar a los adultos con una apnea del sueño obstructiva entre moderada y grave que no podían tolerar o persistir en el uso de los dispositivos de PPCVR.
La mitad de los voluntarios se asignaron al azar a recibir la cirugía para la apnea del sueño, mientras que los otros 51 continuaron con el tratamiento médico. La gestión médica consistía en alentar a la pérdida de peso, beber menos alcohol, cambiar la postura para dormir y el tratamiento médico de la obstrucción nasal.
MacKay dijo que la técnica quirúrgica multinivel está ampliamente disponible en muchas partes del mundo. Siete cirujanos experimentados realizaron las cirugías de los pacientes de este estudio.
Seis meses tras los procedimientos quirúrgicos, los voluntarios del grupo de la cirugía tuvieron una reducción de alrededor de un 27 por ciento en el número de eventos de apnea de noche. Los que recibieron el tratamiento médico tuvieron una reducción de apenas un 10 por ciento.
Las personas en el grupo de la cirugía también tuvieron mejoras importantes en los niveles de ronquidos y de somnolencia diurna, además de una mejora en la calidad de vida.
Igual que en toda cirugía, hay riesgos.
"Los principales riesgos de dolor y sangrado se limitan a las dos semanas tras la cirugía. Hay un sangrado en más o menos uno de cada 25 pacientes. Los riesgos a largo plazo relacionados con la alteración del gusto, la sensación de atoramiento en la garganta, la disfunción al tragar son muy raros, aunque sí ocurren temporalmente en algunos", dijo MacKay.
El Dr. Steven Feinsilver es director del Centro de Medicina del Sueño del Hospital Lenox Hill, en la ciudad de Nueva York. Comentó que "la apnea del sueño es una enfermedad muy común, más o menos igual de común que la diabetes, y de forma similar a la diabetes, se asocia con un mayor riesgo de eventos cardiovasculares, como el ACV y la enfermedad cardiaca".
Añadió que "la PPCVR funciona, pero es un tratamiento difícil".
Feinsilver apuntó que hace mucho que el objetivo del tratamiento es una cirugía que pueda proveer una cura permanente.
"Este estudio muestra que una cirugía relativamente menor, realizada de forma estandarizada por unos cirujanos hábiles, puede mejorar de forma significativa la apnea del sueño, en comparación con el 'tratamiento médico' (que en esencia es ningún tratamiento)", observó.
Pero anotó que aunque las personas reportaron una mejora, su respiración nocturna no volvió al rango normal.
"Sin duda es una mejora importante, pero sigue sin estar claro si los resultados (como el riesgo cardiovascular) se verán afectados de forma significativa", indicó Feinsilver. Además, sugirió que esta cirugía multinivel quizá solo sea una opción para un grupo de pacientes selectos.
El informe se publicó en la edición en línea del 4 de septiembre de la revista Journal of the American Medical Association.
Más información
Aprenda más sobre el tratamiento de la apnea del sueño en el Instituto Nacional del Corazón, los Pulmones y la Sangre de EE. UU.
Artículo por HealthDay, traducido por HolaDoctor.com
© Derechos de autor 2020, HealthDay

FUENTES: Stuart MacKay, MD, honorary clinical professor, otolaryngology, head and neck surgery, University of Wollongong, Australia; Steven Feinsilver, MD, director, Center for Sleep Medicine, Lenox Hill Hospital, New York City; Journal of the American Medical Association, Sept. 4, 2020, online
Consumer News in Spanish