October 31, 2014
ACS: Ruptured Appendix Risk Up in Regions Short of Surgeons
Findings among children and teens; risk particularly high among young children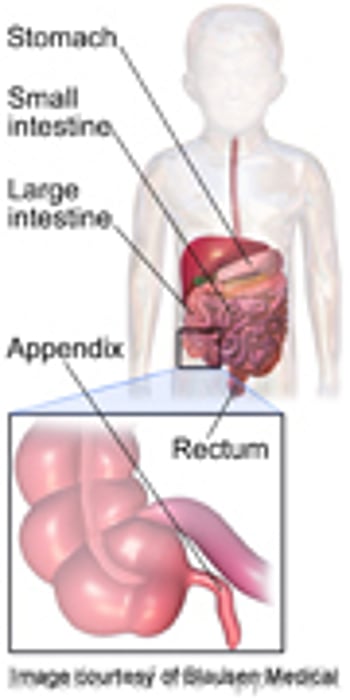 FRIDAY, Oct. 31, 2014 (HealthDay News) -- Children and teens with appendicitis who have poor access to general surgeons are at increased risk of ruptured appendix, and the risk is particularly high among young children, according to research presented this week at the annual meeting of the American College of Surgeons, held from Oct. 26 to 30 in San Francisco.
Researchers analyzed data from nearly 7,000 children younger than 18 who were diagnosed with appendicitis at surgical centers in North Carolina between 2007 and 2009. Nearly one in four of the children later suffered a ruptured appendix.
The risk of ruptured appendix was 1.7 times higher among patients who were transferred to another hospital, and 1.4 times higher among those who came from areas with a severe shortage of general surgeons, fewer than three for every 100,000 people. Compared to children older than 12, the risk of ruptured appendix was 5.6 times higher among children age 5 and younger, and 1.3 times higher for those ages 5 to 12.
"Transfers from other hospitals tend to be younger children. Rural surgeons may feel comfortable treating a 12- or 13-year-old, but if the child is 1 month or 5 years old, they will usually be transferred," study lead author Michael Phillips, M.D., a surgery resident at the University of North Carolina at Chapel Hill, said in a College of Surgeons news release. Such transfers can take a couple of hours, he noted.
Physician's Briefing